Western readers will remember how so many public places, from little city parks to St. Paul's Cathedral, were trashed by the low-life trash known as the Occupy Movement.
—————–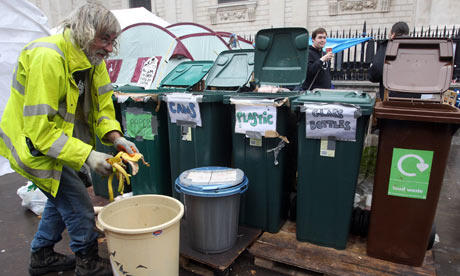 Occupy pollution in London
—————–
Those filthy parasite gangs not only arrogated to themselves the right to use (abuse) places meant for everyone's enjoyment and appreciation but also turned them into toilets, or worse.
-
 Occupy pollution in Los Angeles
-
Did anyone ever get taken to court and made to pay for restoration, or even a simple cleaning bill?
Maybe. but I ain't heard much of it so far.
00000
However, here in Jakarta, we have a good Governor, Ahok, who is not into taking cr#p from any crapulous communists if Occupy should rear its ugly head in Indonesia's capital – or from the mob of louts who rioted this past week outside the Constitutional Court.
==============================
Prabowo fans ready to riot
==============
Hundreds of paramilitary and bussed-in protesters gathered in front of the Constitutional Court on Thursday as the judges prepared to give their verdict on Prabowo's appeal against the presidential election result. Trucks attempted to push through police lines and police used tear gas and water cannon to disperse the mob.
ooooooooo
If these were simply manifestations of an amok mob, one might feel sorry for Prabowo Team bosses unable to control their fanatics' thuggery.
But of course we have posted more than once on the shameless incitement to lawlessness by rabble-rousers, from that 'Team,' undisowned by Prabowo…orators who blatantly urged criminal activity.
oooooooooooooooooooooo
Threats of kidnapping, calls to arson…no level of irresponsiblity below which they would not sink.
So no wonder that Ahok  is furious and that he plans to send a bill to the coordinator of Thursday's protests in support of Prabowo Subianto's Constitutional Court appeal — after those involved ran riot over parks around Jalan Medan Merdeka.
==================================
"We will fix the parks first, then we'll send them a letter to charge them the repair fee."
His Parks manager, Nandar Sunandar, has estimated the bill.  "The damaged parks are located at the Bank Indonesia roundabout, the Patung Kuda traffic circle, and the park in front of the Constitutional Court," he said. "We have done the calculations for the repair — we will need up to Rp 200 million [$17,100]."   http://www.thejakartaglobe.com/news/jakarta/basuki-bill-prabowo-supporters-trashing-city-parks/
———-
Now WHEN will civic leaders in London, LA and Oakland and all the other cities and towns in Western countries take similar action.
And if the scumbags can't or won't pay, they should be arrested and sentenced to hard labour – cleaning up the pig-sties they created.