Wake Up, Europe – Sanction Erdogan and Expel His Fifth Column!
So while the pinkos are still shrilling about UKIP's tv critique of the deep and undeniable threat Turkey poses to every country in Europe…
…………
"The mosques are our barracks, the domes our helmets, the minarets our bayonets and the faithful our soldiers."  ===
…EuroCommissars are 'declining to confirm or deny' this report. That gives us a clue or two.
The leaked minutes reveal typical Islamist contempt for 'heathen,' and their content entirely fits the character of the enemy in Ankara,where Tusk and Juncker met Erdogan on 16th November. Turkey's Erdogan threatened to flood Europe with migrants1
"We can open the doors to Greece and Bulgaria anytime and we can put the refugees on buses …" It also quoted him as demanding 6 billion euros over two years. When Juncker made clear only half that amount was on offer, he said Turkey didn't need the EU's money anyway…."
………….
Happy recipients of Western funding
————————-
No, what this swine needs is not largesse but a LESSON – if the West can pour millions into arming Syrian Islamist 'rebels,' it can as easily do the same for the Kurdish separatists in Erdogan's neo-caliphate. After all, thanks to recent events, Kurds now command widespread sympathy across Europe, Erdogan's machiavellian manouevres seen as base and brutal  Kasihan Kobane! Erdogan…Echoes of Warsaw 1944? 
Mining the Turkish coast could be useful too, but would take time.
However, an immediate step would be for Europe to declare solidarity with Russia, adopting the sanctions Putin imposed after that plane was downed and a prisoner of war murdered by Erdogan's fan-club.
Russia demanded that Turkey arrest Celik and try him for the killing of the Russian pilot, as well as for being a member of an unlawful armed group. Ankara ignored the demand and he has continued to give interviews and travel freely in Turkey and across the border into Syria.  Turkish fighter who bragged about killing Russian pilot –
——-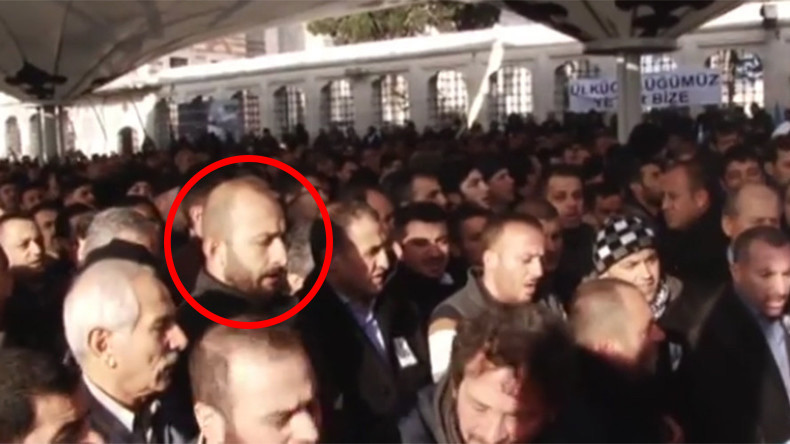 Murderer Alparslan Celik – uncharacteristically naive, the Russians, to imagine, even for a moment, that Turkey would behave like a civilised country
——
What a contrast, too, the muted response to that murder from the capitals of Europe, after the – wholly righteous – outcry after the murder of that other brave pilot, the Jordanian burned to death by ISIS.
ooooooooooooooooooooo
The Turkish leader was also quoted as telling Juncker, a former prime minister of tiny Luxembourg, to show more respect to the 80-million-strong Turkey. "Luxembourg is just like a little town in Turkey."
Actually, Turkey's population could be increased to a little bit more than 80 million!
If European countries, especially Germany, were to return unassimilated, ungrateful Turkish migrant workers…Deutsche Welle: 'Many Turkish hearts in Germany beat for Erdogan' …his fanatic faithful who have no place in civilised countries, – Erdogan's 5th Column Roars Islamist Slogans In Europe's Heart!    –  who are overtly indifferent to civilised values..
………..
Who's going to provide employment or welfare for the bums!
Whilst a measure of schadenfreude may be in order, given Tusk's chickens coming home to roost in Poland –  Ewa Blasik, the wife of a Polish military officer who died in the crash, also told press the Tusk government "repeated lies, which had been written in Moscow"  https://euobserver.com/foreign/132154 and given Juncker's record of arrogance and deceit, let's turn our thoughts to Cameron the Cur..
—–
We await any announcement Cameron may make, retracting this sordid aspiration.
And we watch the skies!