Kiwis Keep The Flag Flying! But Oz Pinkos Aren't Happy!
ooo
Congratulations to the people of New Zealand, who have voted to keep their flag, rejecting by postal referendum the odd alternative, which resembles the sort of banner some new African republic might hoist proudly.
—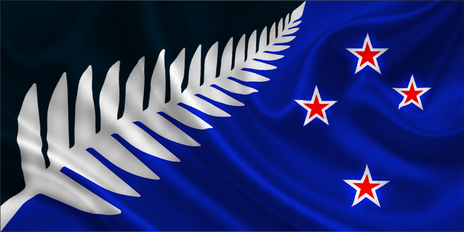 —
But in Australia, where an alliance of multiculter and republicans have long been pushing to dump Australia's world-famous flag, there is instant whining, not least from a twit who has failed to realsie that Australia DOES have a flag of its own!
————
Peter FitzSimons is a director of Ausflag, devoted to Australia having a flag of its own, with uniquely Australian symbols. He is also the chairman of the Australian Republican Movement.
http://www.smh.com.au/comment/new-zealand-flag-referendum-think-this-is-the-end-of-it-think-again-20160325-gnr4gd.html 
The Sydney Morning Herald, the left-liberal Fairfax conglomerate's leading newspaper, has provided ample space for this strange man, who appears to enjoy dressing up as a pirate (no idea why – maybe his hair is thinning faster than mine and he just can't bear it!)  
He has listed various reasons why another assault on NZ's flag must soon be mounted, including this gem. 
the obvious flag that most people preferred from the start, which was the simple silver fern – the Kiwi version of the Canadian Maple Leaf – on a black background was just gaining traction when the Islamic State flag came along looking remarkably similar. And that was the end of that.
0
A sore loser, howling at the moon.
Meanwhile, in the UK, The Guardian has been at it too, twisting the NZ result to serve its own Europhiliac cravings.
Some geezer named Martin Kettle concludes that it sounds as though the undecided voters decided they were better off with what they were accustomed to, whatever its faults  .http://www.theguardian.com/commentisfree/2016/mar/24/new-zealand-flag-britain-eu-referendum
Really?
That's pretty condescending. Because, as Kettle goes on to admit, 'Flags matter because they embody identity.'
Indeed they do. So it wasn't that the Kiwis couldn't be bothered, that they kept what they had because they were used to it. It was a conscious decision, after a long campaign by the 'changers,' led by the phoney-conservative Prime Minister Key, and it was a clear decision, made because their flag is beautiful, and meaningful.
But Kettle boils over, pro-Brussels steam, his conviction that people choose the 'status quo' because they lack the initiative, imagination, courage or whatever that's needed to do anything else, leading him to prophesy that Britons never, never, never, will reject rule from Brussels.
How quaint.
In NZ, people opt for pride in their traditions, so in the UK, people will seek to have them buried under the EUSSR Tower of Babel? 
I'd say hogwash, but Kettle doesn't care what I say, or, for that matter, what Kiwis say, because he's already announcing, like Pinko Fitzsimmons in Australia, that they wasted their votes.
 New Zealand will have a new flag one day.
—————
So much for respect for democratic decisions.