'Hands Off Crimmigrants!' Pinkos Pressure Bulgaria!
Imagine you're walking along the street and you see a grandma being harassed by hooligans.
There's not a cop in sight, and yes, you could ring in and report it. But if you're able-bodied and can get help from decent fellow-citizens, you'd probably try to help her.
The concept of a citizens' arrest is widely-known and where a violation of the law is a clear and present danger, citizens who do act are generally regarded as socially responsible if not downright heroic.
——————
Not in Bulgaria these days.
"Arresting people is only in the power of law enforcement and the police. Any attempts by citizens to arrest other citizens is illegal. Any kind of illegal detention of citizens by other citizens is treated as such."
So, it seems, is the view of the Bulgarian Government, if their deputy Interior Minister, Philip Gounve, is accurately quoted in the Guardian.
So God help Grandma? 
In fact, mugging old ladies is not the context, but rather the equally serious crime of illegal immigration from Erdogan's Turkey!
Pinko pressure has pushed Gounev into this denunciation, but if you read his words carefully, you'll see he's specifically talking about 'citizens,' not undesirable aliens.
—————-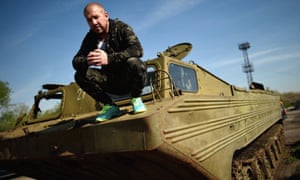 Dinko Valev – "These [migrants] are disgusting and bad people and they should stay where they are." Hear, hear!
================
So the latest boogeyman conjured up by the left-lib pro-crimmigrant lobby (yes, of course even Bulgarian has one!) a patriotic wrestler named Dinko Valev, who's been doing a grand job hunting down and rounding up illegals, falls outside the scope of the junior minister's criticism.
The hero's nevertheless been taken in for questioning, despite widespread popular support and, more interestingly, clear indications of very high-level support.
———-
PM Borissov, the reds' next target?
—————-
Both Gounev's boss, Prime Minister, Boyko Borissov ( "Any help for the police, for the border police and for the state is welcome…Anyone who helps deserves thanks.") and the Border Police Chief, Antonio Angelov ( "I want to encourage them, because they have reacted very appropriately") have quite recently given the nod to those good citizens acting to defend their country.
Obviously the Guardian thinks it's monstrous that lawless aliens (whom they describe, without any proof whatsoever, as 'refugees' ) should be apprehended.
But how about you readers? I reckon the 'vigilantes' (aka responsible Bulgarians) have got it right, tying the people's hands behind their backs, forcing them to lie face down and shouting: "No Bulgaria! Go back to Turkey!"
.
—
Good grief.
What on earth are these vulgar Bulgars thinking?
Why can't they be more like Mama Stasi Merkel, holler out exhortations to every primitive in the Middle East to hurry up and get their snouts into the welfare troughs of Europe?
———–
——–
Why can't these dreadful Bulgarian men not welcome the prospect of their wives and daughters facing a horde of sex-predators?
……
—
Aaah, but you see, there's been an 'international outcry.'
Orchestrated shrilling, which obviously trumps the will of the Bulgarian people, 60% of whom rightly consider the invaders a threat to national security."
What's wrong with the other forty percent? Don't they read the news from Cologne, or from Paris, or from Brussels? 
Or are they taken in by the likes of the Bulgarian Helsinki Committee, a typical agitprop Enemy Within outfit? I don't know who's picking iup their tab these days, but in the past it's been foreign-funded –  Soros money, UNHCR money, US tax-payers'money!  http://www.bghelsinki.org/media/uploads/documents/reports/annual_activity_report/bhc-annual-activity-report-2007_en.pdf
Their little local mini-merkel is named Margarita Ilieva…
………..
————-
…and she's obviously not to be appeased by the mere detention of Daring Dinko.
The leftist creepette has now begun braying that the prime minister should be arrested "for openly inciting the commission of crimes, and inciting violence and discrimination based on nationality, ethnicity or race!"  http://www.theguardian.com/world/2016/apr/12/bulgaria-arrests-three-vigilantes-accused-migrant-attacks
Poor Prime Minister Borissov. No thanks from the 'human rights lawyer!' He should have kept on saying and doing everything that gets Ilieva's knickers in such a twist, instead of turning on Dinko.
We heard exactly the same kind of hogwash from another notorious leftist, the Aussie Red, Mark Lane, who, a year or two ago, was demanding that Scott Morrison be subjected to a kangaroo court for his vigorous defence of Australia against a similarly parasitic rabble.
I wonder if our local leftist media here, the Jakarta Post, which gave that nasty red a platform for his bizarre bull-sh-t then, may soon do the same for the Malevolent Margarita.