Blasphemous Savages Wreck A Mosque in Java
Once again the peaceful and utterly inoffensive Ahmadis have been the target of pig-ignorant blasphemous brutes.
"All was destroyed, the walls of the recital room knocked down, and the roof," said Ecep, the Ahmadi imam.
Koran burned by Islamists in Cisakada, 2011
https://rossrightangle.wordpress.com/2012/07/14/west-java-islamists-again-attack-ahmadis-blame-foreign-journos/
———————-
In an unholy echo of a previous attack five years ago, in Cisalada, West Java, when a Koran was burned, even the holy books in the mosque were vandalised.
A swarm of savages caused Rp.200 million worth of damage to their mosque in Kendal, Central Java, the cowardly swine launching their onslaught in the wee hours when nobody was around to bear witness.
Typical of sectarian fanatics here, who do not respect houses of worship of any creed, even their own!.Jakarta Mosque Mayhem – IslamoNazi Louts Silence Moderate! 
 To their great credit, the local youth wing of the mainstream Muhammadiyah movement condemned the outrage in unequivocal terms.
————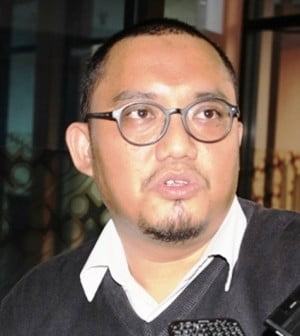 Dahnil,of Pemuda Muhammadiyah
———
Their chairman, Dahnil Azhar, called on the police to  investigate the attack thoroughly so that the culprits are prosecuted.   http://www.thejakartapost.com/news/2016/05/24/muhammadiyah-youth-condemn-attack-on-ahmadi-mosque.html
"I do not share the same beliefs as the Ahmadis, but I believe that they have the same rights as other citizens of Indonesia."
Bravo!
But although the reports quote senior cops saying they'll do right by the victims, many previous cases don't make some of us overly optimistic.
————-
http://www.youtube.com/watch?v=U7RLCXNdKF4  –
No arrest was made when the IslamoNazi, Lubis, was recorded inciting murder against Ahmadis, the infamous 'Kill, kill, kill' video.
The Cikeusik Pogrom in Banten Province, near Jakarta, was carried out under the gaze of armed officers, who never fired a shot to quell the blood-thirsty hoodlums involved in that atrocity, when three innocent Ahmadis were martyred by a mob.
——————
Islamist pig revels in sectarian slaughter at

Cikeusik
oooooooooooooooooooooooooo
Again, in Lombok, Islamist savages enforced 'ethnic cleansing' of an entire Ahmadi community, a hundred well-armed officers standing idly by. 
But the root of the problem surely lies deeper than the constabulary's inertia.
Despite loudly proclaiming his commitment to pluralism, President Jokowi has done nothing to revoke the iniquitous Tri-Ministerial Decree, which formalises anti-Ahmadiyah discrimination.
---
ooooooooooooooooooooooooooo
To be fair, he has also declined to uphold religious liberty for the Christians in Bogor.
The Yasmin Protestant congregation won a huge victory at the Supreme Court against jihadist bigots who closed their church, but the ruling remains unenforced, though Jokowi could order the cops to move in tomorrow, if he wished.
What's been done to Ahmadis in particular is monstrous.
At least the Protestants get to vote and send their kids to school, and qualify for what little welfare exists here. Check my search engine, over there to the right – so many wretched examples of oppression. 
Very sad, the plight of the persecuted in Indonesia.
I write about it so often. I get weary of doing so, but it's a dreary duty that may not be shirked. 
i