Project Fear Becomes Project Smear!
====================
While some of those closest to the murdered MP have shown a decent distaste for the elite and their media running-dogs' vile exploitation of her death…EXCLUSIVE – Jo Cox Friend And Eyewitness: 'Immoral' For Her to be used a Referendum Token…we see how most of the swine are going to play it.
That Project Fear, the scare-mongering lies and  deceptions about the economy…Remain's campaign of fear has pushed voters towards Leave
……………
…will – has already – become Project Smear…hell, that can't be surprising. Leftist hacks in the USA have already been tasked by anti-British media like the NYT to muddy the waters.Britain Asks if Tone of 'Brexit' Campaign Made Violence Inevitable
–New York Times
And even as I type this, some CNN bint named Becky Anderson is shrilling about how Leave is being pushed and pressured to skip what she (approvingly quoting un-named leftists!) dubs 'vile' anti-immigration arguments – knowing full well that if they silence those patriotic appeals, they risk de-energising patriot voters.
Farage has it right.
=================
——–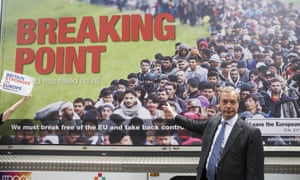 =================
MAKE MIGRATION  THE ISSUE and Britain can win this battle yet. 
However, Cast-Iron Camoron will try to don the VERY unfamiliar mantle of a 'statesman…'
————————
….confident that, while he poses, leaving minor slug Remain politicians to tramp the low road…Labour MP Slammed For Blaming Jo Cox Death On Brexit – …his henchmen in Grub Street have launched a vicious series of 'guilt-by-association' pot-shots at British freedom-fighters.
The Remainiac UK media are probing new depths, quite hard considering most of them are lower than snakes' bellies…
---
Just read this – http://www.breitbart.com/london/2016/06/17/project-mourn-remains-dirty-politicking-has-hit-an-all-time-low/
———————
…but then the UK press propagandists have to keep up with their foreign counterparts, like those which turned to a convicted criminal to share his insights into how the murder was linked to Brexit campaigning.  
The Huffington Post's Spanish edition and Der Spiegel in Germany are just some of those who chose to quote the rip-off rat Denis MacShane.
…………..
A French tv station broadcast the sleazy creep's rant.  Disgraced MP Denis MacShane Tells French TV: 'Climate of Hate …
———————
 This, all of the above – and there's lots more, and praise be for Breitbart which can cover so much more than I can – amounts to an affront to common decency and fair play.
Don't let up for a minute, Brit patriots.
The Europhiliacs will leave no stone unturned – even when things like MacShane crawl out from beneath it! – to poison voters' minds with lies.