Memo to H. E. Moazzam Malik – Haul Down The EU Rag!
…………
Apart from family events, it's fair to say I haven't felt so full of hope and glory since, a week or so after my finals, I hurried up to the old uni quad and one of my fellow-students who'd beaten me to the 'results' board yelled out, "Ross, you got a good one!"
That too was a sunny morning, though not as warm as my usual Jakarta morns out front. Little did I know, that long-ago day at the alma mater, that I'd end up here in Jakarta.
However, here I am, and so, this fine Friday, I'd like to suggest to His Excellency Moazzam Malik, British Ambassador to Indonesia, that he ought to organise an official party, for every true Brit in town, at the splendid new embassy compound over by Jalan Rasuna Said….
—————–
——-'
….when the hated symbol of the EUSSR is hauled down.
I realise 'Our Man in Jakarta' has to wait till whoever in London gets round to pressing the 'Article 50' button, but such a ceremony to mark the liberation of the UK would be a most welcome way to spend a Saturday arvo.
I was down Rasuna Said yesterday, a lot of embassies along that busy road, and I noticed the Hungarians and Poles have the horrid Brussels banner flying at the same height as their own proud flags.
oooooooooooooooooooooooooooooooooooo.
That's the situation at the UK Embassy in Bratislava, replicated offensively around the world
———–
Given how those two countries, and another twenty, were treated with disrespect last week, when only the In-Crowd Six were consulted on Brexit…
---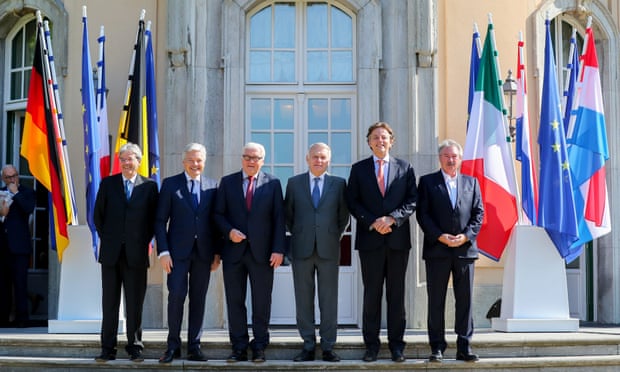 Founding EU members talk Brexit in Berlin
Internasional–Deutsche Welle
….surely those nations thus treated as 'second-class citizens' should strike back?
It's always been an unpleasant sight to see the supranational banner flown, not lower than, but on a par with, the national flags that all should honour.  
---
—
To my friends and readers in Budapest and Warsaw, Bratislava and Prague, and the other dissed capitals, may I suggest they urge their leaders to make Brussels atone for that sin of omission last week.
Lower the EUSSR rag to half-mast – until it's time to bin it altogether!