If Scots Go, Let 'Em Take Some Excess 'Asylum' Baggage!
A mild meander this rainy Sunday night, as I continue recuperation from Canada Day celebrations.
The post-referendum news from the UK has unfortunately been studded with sound-bites from that shrill fishwife Sturgeon, the separatist leader in Scotland.
Her nagging little voice, forever reminiscent of shrewish haggling over a bargain in the Hogmanay sales…
————-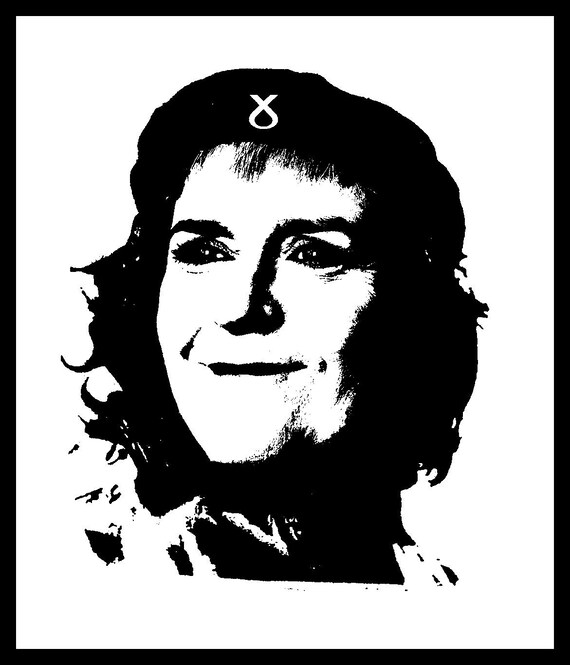 Che Sturgeon?
————
…is paradoxically a likely asset to her cause, since people in the rest of the UK, antagonised by her hectoring, may well be concluding the UK is better off without Scots.
This has to be, in my view (and, between Mainland Scots and Ulster-Scots, I must be something like 80% minimum ethnic Scots myself) a most deplorable prospect. Sensible Brits should simply bear with the Scottish bad mood, give them time to lighten up.
We need to be aware, too, that the problem of a poorly-informed youth vote ( so obvious in the Brexit result, where too many callow kids, with no recollection of freedom, voted for continued servitude) is infinitely worse 'north of the border.'
Even children in Scotland get to vote! The separatists, very calculatingly, lowered the voting age to SIXTEEN to boost their prospects, and would no doubt lower it to twelve if that too would help achieve their aim.
However, if, in the end, despite the centuries of common triumphs as part of the Great British Project, a majority of Scots choose to turn back the clock…so be it, we'll have to say.
It would be insane to defy a clear referendum result.
---
One  might wish that mangy mob of demophobe disloyals in London yesterday recognised that reality!
And yet…separatism's logic sometimes falls short of internal consistency.
We see that across the water, where arrogant imperialists in Dublin delight in celebrating their Eire separatism, the partition of the British Isles a hundred years ago, but incredibly still talk about 'getting back' what they've no right to, the British nation of Ulster.
Equally, Shrilling Sturgeon should be told that, in Scotland too, a region-by-region, county by county, consultation should be a pre-requisite for true self-determination.
Orkney and Shetland islanders, for example, if they wish to stay British, should be guaranteed that right. 
—————-
Moreover, Sturgeon has often declared how much she dotes on all those alien parasites she calls 'refugees.' Scottish leader, unlike UK government, welcomes EU refugee plan
Indeed, last year she said she'd have a random sample thereof under her very own roof.
'Yes, I would be absolutely happy to do that as part of a bigger, wider, organised approach.'
When last heard from, she'd reneged on her generous offer. But her party policy is well known .
---
-Farage, smarter than Sturgeon
———-
The SNP has repeatedly called for a more relaxed approach to asylum. They have opposed the enforced removal of failed asylum seekers and have pledged to close the Dungavel Detention Centre, the only one in Scotland.  http://www.migrationwatchuk.org/briefing-paper/10.33n
Okay.
 If she pulls Scotland out of the UK, let the UK give her a farewell good luck gift.
Round up all these lying 'asylum' wasters, stick 'em on a freight train, and send them up the West Coast Main Line to Glasgow!