German In-Crowd Running Scared – And Lying!
A vital vote takes place this month in Germany, and the German political in-crowd are ganging up on the patriot party, terrified by the surge of popular support for the AfD.
ooooooooooooooo
————-
What Deutsche Welle describes as Mama Stasi Merkel's home region is one of the two provinces at stake, and one of her local henchmen has urged voters to avoid the populist AfD in a key election next Sunday.
There's that word again, 'populist,' which has no meaning. To top up their bias, DW moves straight onto their other buzz-word, 'far-right,' in their next sentence.
Funny how they never refer to the Greens, or even the Left party ( heirs ot the quisling red clique that ran East Germany as Kremlin lackeys for nearly half a century) as 'far left' parties!
No, not funny, just a daily revelation of DW's bigotry.
---
00000000000000000000000
Lorenz Caffier is his name, and he's lashing out wildly in the countdown to polling day in Mecklenburg-West Pomerania state. Mama's boy says that if the AfD overtook established parties next Sunday it would be a "terrible signal" for Germany.
00000000000000000
Note well –  Caffier is not just ranting for his and Mama's so-called 'Christian Democrat' party but throws his protective mantel around ALL the established parties, making it crystal clear he has more in common with the far left, the Reds in Die Linke and the Red/Greens in Die Grune, than with honest Germans who speak up for their country.
====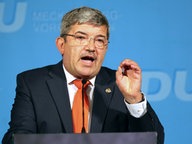 Caffier
===
And his desperation is measured by his resort to downright lies, that the Alternative for Germany  made only demands without offering solutions.  http://www.dw.com/en/anti-afd-appeals-by-established-german-parties/
A bare-faced falsehood. AfD has a rage of policies on a variety of isues, but most important, it's the only party with a constructive, sensible policy on the crimmigrant tsunami.
—
—
It wants no more, and would, if in office, take prompt steps to reverse the flood, ejecting all those who hold with alien ideologies and/or are engaged in criminal activity.
Now for the good news! According to the latest poll, Mama Stasi's CDU ratbags are at 22 percent in the mostly rural state bordering the Baltic Sea, closely trailed by the AfD at 21 percent.
Caffier, provincial Interior minister, is in bed with the Socialists (SPD) – an elitist coalition for the past five years. And that clique obviously will stoop to any level to hang onto power.
So no wonder the top man on the AfD candidate list, Leif-Erik Holm, has declared an alert against voter fraud. The nasty parties always need to be watched carefully…
---
---
….but after the 'odd errors' that have resulted in  re-run in Austria, patriots everywhere should consider Herr Holm's attractive approach – offering a 100-euro ($112) reward to each voter who spotted electoral irregularities next Sunday…