Demon Doctors – Mendacious Medics Collaborate With Mama Stasi's Migrants!
==
Disgusting doctors? Diabolic doctors? Dirty rotten red doctors?
Lots of scope for alliteration in the shocking story  – covered by few of the Lugenpresse media but honourably publicised by Breitbart and the Daily Caller – on how the German government is accusing doctors of issuing too many sick notes to migrants to help them avoid deportation.Thomas de Maiziere, Germany's interior minister, indirectly accused doctors of issuing fake sick notes to refugees in June. 
Naturally, the pinko shrill-machine got moving, as doctors and politicians quickly dismissed it as exaggerated.
---
"It can't be true that 70 percent of men under the age of 40 are declared sick and not fit to travel before deportation," de Maiziere said in June. "Experience suggests this is not the case."
=======
======
Not untrue, please note, but simply 'exaggerated,' as if even a handful of collaborationist scum in the medical profession should be ignored or de-prioritised as targets for whatever Germany has in the form of professional oversight bodies. Every effort should be made to see to it that they never work again. 
But now we hear that his charges have been backed up – many medical files stand out in the way they come from the same doctor with identical notes, and lack a solid explanation for why the person can't travel, newspaper Frankfurter Allgemeine Zeitung reports.Vague formulations such as "presumptive diagnosis" are used to declare the migrants unfit to travel.: http://dailycaller.com/2016/09/25/germany-accuses-doctors-of-diagnosing-migrants-as-sick-to-help-them-avoid-deportation/
And even more to HMV, the evil Mama Stasi Merkel, for their refusal to enact laws (and for their acceptance of German subordination to the Abominable No-Men at European Court level) …
—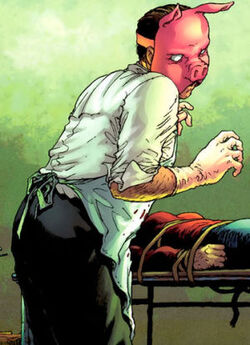 ==================
…there needs to be a reckoning with lying schweinehunde in white coats who are devoid of both honesty and allegiance to their own country.
…as of June 30, 2016, some 550,000 rejected asylum seekers were still living in Germany. Many have unrestricted residency status, since they have settled here and no longer have any connection to their own country of origin…
=============
Deutsche Welle seems to have missed the big picture but does tell us of what good Germans are calling the'Deportation Hindrance Industry.' The report says there's suspicion about both lawyers and doctors are behind this subversive menace.
Sad reading.
While most people hold lawyers in some degree of contmept, equally, most respect their doctors.  But the Chairman of the German Police Union (GdP), Rainer Wendt at least is prepared to speak up.
——–
——-
"Whoever allows those who failed to receive asylum to lead the government around by the nose like that risks destroying citizens' trust in the state's ability to act." 
There certainly are some vile professionals about.
We even had a sickening report about one sicko vixen who maintained that rape should not be seen as sufficient grounds for deportation. 
But fact is, until Merkel is removed and Germans get proper consultation on 'migrants' – like Hungary's splendid referendum next month – there will be no serious steps taken to deport the million or so who don't and won't fit in.
Only democracy, and restoration of sovereign status, freed from Brussels and Strasbourg, can resolve this issue.