Jittery Jakarta – Jokowi Urges 'Carry On As Normal!'
---
It's Friday, 4th November, the day Jakarta sees a very short 'Long March' –  – aimed at maximising pressure for the prosecution of the capital's Governor Ahok.
==================
It may be incomprehensible to you overseas readers, but all the Governor did was make reference to a Koranic verse in a way that Islamist extremists don't like.
Western folks concerned about their civil and religious liberties may draw their own conclusions about what kind of migrant-vetting is required to keep this kind of stuff out of their previously free countries.
—
fanatic censorship demo in a Western city
—
Or is it already too late?
0000000000
Watching the news this morning, I'd say the fanatics will muster a lot of 'marchers,' and cause a lot of disruption – at least!
It's totally needless, of course, since the police are already investigating Ahok's 'offence.'
–==============================
Yet such is the situation, and President Jokowi has felt it necessary to exhort the people of Jakarta to go about their legitimate activities.
A lot won't.
As I said yesterday, many people will stay off work. They are fully aware of what the FPI, the self-styled 'Islam Defenders Front,' the key player in this exercise in street theatre, says and does…
————-
——————–
…and they prefer to avoid risking proximity to any such behaviour.
At this point, it's only fair to point out that Indonesia's two largest Muslim organisations have urged their members to skip this manifestation.
…
With no work to go to myself, I'm going to monitor the various tv channels, to try to keep you up-to-date on developments.
———
Meanwhile, however, it's nearly 8.30am and there's a cat needs to be fed, and then a walk to be taken in search of the tukang gado2, for my own breakfast!
Alas, no visitors today – getting across a demo-stricken town has been deemed too arduous a price to pay for my charming company! 
09.11 – Metro TV has a reporter at the istiqlal Mosque, where lots of white-clad people are milling about. One oafish individual stood behind him jabbing one extended finger upwards at the camera.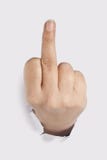 Might this rude gesture have been offered in the knowledge that I had just sat down to watch?
Meanwhile, it's being said that traffic is flowing smoothly downtown. This suggests it is by no means a normal day in Jakarta!
TVRI, the local state tv, equivalent to BBC, but maybe not as biased, has text news that the Rectors' Forum has told students NOT to carry college banners at the demo. I'd have thought it better if they disciplined students who cut classes to join a sectarian parade.
Which reminds me,all these thousands I can see gathering at Istiqlal – do they not have jobs to do, families to support?
12.3opm
No gado2 today. I went to Superindo and shopped for rendang beef, etc, then returned via my fave warteg for a lunch of tempe, tahu, pare and rice.
—–
—
The nice lady who runs it has brought in a new load of teens from Tegal and although they seemed giggly-shy at first, now they are chatty.  Maybe next month (between my party days) I'll start another free English class during their quiet arvo hours.
Anyway, back home, Trans 7 TV news is showing some women who intend to drag their tiny tots along on the Short ( sorry, Long) March – what can they be thinking? The tiny wee children have no idea what it's about, they'll be weary, and if trouble does break out, what then?
On Berita Satu news, they had an incredibly cute girl reporter with frizzy hair talking about the economic implications. At least Indonesians understand that the wider world is aware of the damage intolerant Islamists like those gathering at Istiqlal can do, not just to harmony in a multi-creed country, but to the confidence of prospective investors.
1.15pm and from the Bank Indonesia roundabout, endless hollering of 'Allahu Akbar' – we had a close-up of some benighted bint holding up a placard headed 'Moms for Justice' with the message 'Big No to Blasphemy.'
A big grin on her face, so maybe she's seen the sad joke in the words of her placard,  the absolute indifference of most of those organising this event to justice, their hatred of religious liberty…
…exemplified by their persecution of the Ahmadis, and their resistance to court orders which acknowledged the rights of Christians to use their perfectly legal churches in Bogor and Bekasi and elsewhere.
3.50pm
Almost inevitably, I fell asleep once the speeches began. All that yummy warteg nosh and the droning and blatting of the 'orators' was too much from me.
But an interesting detour; the wannabe caliphate in Ankara has apparently extended its sticky-beak antics to Indonesia.
————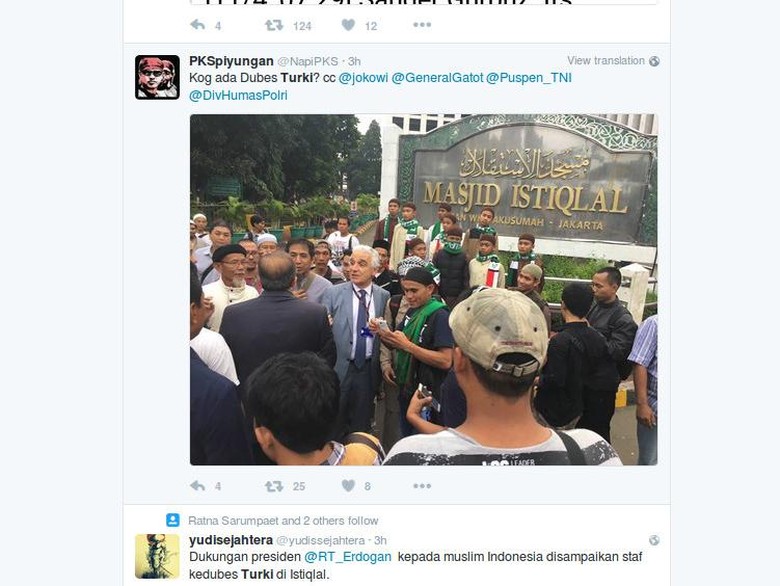 A senior member of Erdogan's junta has been photographed fraternising with the fanatics
…an official at the Embassy of Turkey posed with the November 4  demo mob at the Istiqlal Mosque.
The 'official' was no less than Erdogan's Deputy Defence Minister, in town for the 'INDODEFENCE Fair!'
Anyone's free to go and look at the big mosque, but openly hanging out with people obviously involved in extremist activities? No foreign government emissary, surely, would be dim-witted enough to do something like that?
It's a big no-no for anybody in the diplomatic world to do so, or put oneself in the position of seeming to do so. His bosses in Ankara have quickly denied any aim to interfere, but given the ideology that permeates every aspect of the current Turkish regime…?
Well, I leave it to you to decide whether or not, as they now claim, "the Republic of Turkey has not the slightest intention of intrusion in Indonesia's domestic affairs.'http://news.detik.com/berita/d-3337161/viral-di-medsos-kedubes-turki-bantah-dukung-demo-4-november
4.30pm
Aah, the crowd is still baying Allahu Akbar,and I hear the name of  a figure from the past. Amien Rais is somewhere about.
Amien

Rais

, demonstrated his 'moderate' credentials splendidly fifteen years ago when he showed his solidarity with the

Laskar

Jihad

murder gang, which was sailing off to Maluku to butcher innocent Christians.
When

Laskar

Jihad

's parent body Forum Kommunikasi Ahlus Sunnah Wal Jama'ah called a mass rally of Muslims at Jakarta's Senayan Stadium in April 2000, the attendees included

Amien

Rais

, leader of the Partai Amanat Nasional (National Mandate Party)http://www.atimes.com/atimes/Southeast_Asia/SEA-02-161013.html.
================
ooooooooooooooo
The LJ, an Islamist killer-gang, murdered hundreds, maybe thousands, of Christians, in the late Nineties.
FPI's Rizieq has invited Rais aboard the Command Car. 'Please, make way, Pak Amien Rais is coming aboard'http://pekanbaru.tribunnews.com/2016/11/04/amien-rais-fadli-zon-fahri-hamzah-dan-rizieq-shihab-satu-mobil-komando
—————–; 
And as I'm cross-checking what I'm hearing with other media. who else's name pops up?
Ahmad Dhani. He's a man with no small opinion of his own importance..AA? Siapa Kucing Mewah Itu? Ahmad Dhani HARUS Tahu! …who's apparently seeking elected office in Bekasi, a place of which the less I say the better…Head-Scarfed Harpies Hurl Dung and Urine at Christians
Dhani is a singer. Not one I would ever buy a ticket to hear…
5 pm
…but another singer is present I hear Rhoma Irama, whom I did hear, at a dangdut concert up at Ancol, Jakarta's sea-front years ago.
—–
Again, I can give you a couple of links to let you know what he's like…