Dirty Tricks! French Reds Take Low Road To Stop Marine!
Thousands of French leftists will hold their noses and vote in a conservative election Sunday for what they see as a greater good: stopping ex-president Nicolas Sarkozy and keeping Marine Le Pen out of the Elysée.
http://www.politico.eu/article/french-lefts-complex-operation-to-stop-marine-le-pen-conservative-primary-france-sarkozy-juppe-fillon/
Marine                Sarkozy
—————-
The French reds and pinks  –…as many as 15 percent of participants could be left-wing sympathizers — ranging from moderate socialists to lifelong communists — –  are so panicked at the thought of Marine winning next year that they will seemingly stoop to any dirty trick!
What the story's about is a pack of leftists swarming to vote in the 'centre-right' Les Republicains' primary, to sink Sarkozy's chances – because they reckon Sarko would not prevail against Marine's patriots in next year's presidential election.  
Dirty tricks indeed. 
We shouldn't be surprised at anything the French Communists do – after all, their most famous party leader, the traitor Thorez…
————–
Communist Traitor Thorez
———
….urged his country's soldiers to lay down their arms rather than fight Hitler.
As for Hollande's Socialists, I suppose they're so stricken by that Merkel puppet's poll ratings that they'll plumb any depths!
===========
Anything to keep their pet projects – the disintegration of France and France's retention as part of the Brussels supranational conglomerate – on track.
Totally reprehensible strategy!
Yet we must take comfort, for it's a mark of the desperation on the part of the Enemy Within – Marine can be counted on to keep her word, to crack down on sectarian disloyals, and to give the French people free and fair referenda…
—
—
…not only on restoration of the good old guillotine as an instrument of retribution, but also on a declaration of independence.
---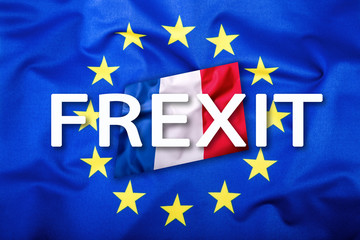 Frexit!