Hamburg's Herr Steffen, Green Slime Par Excellence!
An agreeable Christmas Day, for which I prepared an array of local and Western foods, much enjoyed both by myself and a welcome visitor who arrived at 6pm and helped demolish both the array of edibles and some Oz shiraz…
—–
—–
… along with a few bottles of the East Java- brewed Prost beer.
———
But it's back into indignation mode after reading the outrageous report about that archetypal Enemy Within, Hamburg's Green 'Justice' Senator, Till Steffen.
Here's a photo of the swine – feel free, if you are still on holiday, to print it out and attach to any convenient dart-boards in your vicinity. 
———–
—–
As usual Breitbart did a great job, not much in most other Westerm media that I can see.
The vile Green gargoyle cited "privacy concerns" when he initially prevented law enforcers from releasing pictures of the Berlin Truck terrorist Amri…
—–
….
…who is now thankfully toasting in the hottest fires of Hell for the atrocity he committed in the German capital.
Ding Dong Merrily – Truck Schwein Shot Dead!
Hard to say, however, who's more deserving of hellish torment, that pig who pledged allegiance to the ISIS rape-gang, or the Schweinehund in Hamburg…
…it has been claimed by members of the judiciary and the police that Steffen, who is the head of the judicial authority in Hamburg, denied the release of images of Amri because he was concerned it would incite racial hatred.
So half a day went by while this contemptible leftist scumbag savoured his pathetic cultural marxist sensitivities.
---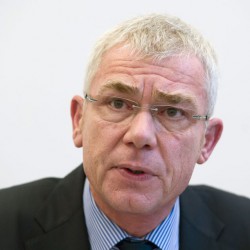 Joachim Lenders
—-
No wonder Hamburg's Police Chief, Joachim Lenders, is reported as saying:
"It is incomprehensible to throw such a spanner in the works of investigators. Steffen is incompetent."
—
…
Incompetent is way too charitable. 
The man's no better than a renegade, who knowingly obstructed the hunt for a sectarian mass-murderer! Even members of Mama Stasi Merkel's CDU party have spoken up about this piece of garbage….
=================
———
CDU judiciary spokesman Richard Seelmaeker –
"Anis Amri allegedly murdered twelve people, but instead of using all means necessary to search for him, Hamburg's green justice senator was more concerned about the state of comments in a Facebook post – which hindered our police."
"If the allegations against Steffen are proven true, he can no longer hold the position of senator." 
http://www.breitbart.com/london/2016/12/24/politician-pictures-berlin-christmas-market-attacker-racism/
Firing him is of course the immediate step to take, as the patriot party AfD has rightly demanded.
They and the Bavarian CSU party seem to be the only sources of rational input at the moment –  http://www.dw.com/en/csu-calls-for-expansion-of-police-powers-after-berlin-attack/a-36916079 – and dismissal is probably the most one can hope for in Mama Stasi Land these days.
---
….
But methinks many Germans are hoping and/or praying for a more robust era, with Germany's leadership in the hands of patriots, when a trial for what is tantamount to aiding and abetting the enemy would surely be given serious consideration by the authorities!
And if Germans could disentangle their laws from the controls currently exercised by the robed rogues in Strasbourg's European Court…
---
——
…then realistic penalties might be imposed.