Wilders Currently A Close Second, Yet He's 'Out In The Cold?'
Sunday morning with a mild dose of Jakarta Flu, which comes and goes here for no obvious reason, but in terms of suffering, I'd say a hefty dose of Guardian bias is infinitely worse.
=
With Holland in the news…
 …most of you may know that Netherlands voters go to the polls on Wednesday and the Guardian dutifully mentions, way down its page, that the Freedom Party, in first place till last month, has slipped back a couple of percentage points.
 Rutte's liberal VVD party has a narrow lead of around 25 seats with Wilders's PVV on 22.
Geert Wilder's party is therefore in second place for the time being, in a field which has NINE parties running.  Not too bad, surely, but the Guardian portrays this strong showing thus –
Geert Wilders out in the cold in Dutch election scrum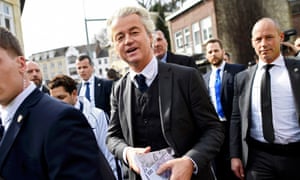 In contrast, although the report admits that the Dutch Labour Party's 38 MPs,  may be reduced to single figures…
…there's no harsh assessment on the Guardian's part that Labour is 'out in the cold.' Emotive slanted headlines are obviously reserved for parties that speak up against crimmigrants and actually mean what they say.
————-
The Guardian salivates over its hope that the chasing pack are closing in: the Christian Democrats and progressive liberal D66 group are on 19, followed by GroenLinks with 16.
Parties with 19 percent, or 16 per cent, might, arguably, be seen as more 'out in the cold' than a party with 21 percent.
So how come Wilders is 'out in the cold' in this story.

It must be because the Guardian, one charitably assumes, is less concerned about the electorate and more with the paranoid siege mentality of the Dutch political establishment  – even if he wins most seats, he has no hope of going into government, as all his main rivals have ruled out forming a coalition with him.
But that eternal bias shines on through, elsewhere, with the lamentation that the Dutch are turning away from their tradition of liberal, progressive politics.
Since when does 'liberal' = progress?
Progress, as I have said before but need to say again, is universally used to indicate positive development.
 A businessman is making progress with his sales campaign.              
A child's report card is better than last term's – making progress.      
Scientists are making progress in finding a cure for cancer.
Liberalism, on the other hand, IS a cancer, soft on crime, cool with crimmigrants, subversive of traditional values.
Oh, you disagree?
Up to you, but kindly don't hi-jack the good word 'progress' to serve as a synonym for your own political ideology.
PS
Good to see that Geert Wilders shares every decent person's outrage over Erdogan. Wilders has been calling for parliament to be recalled to debate the Turkish government's attempts to hold campaign rallies in  his country.
What a contrast to Mama Stasi Merkel's sick appeasement bleating.
Some rallies have gone ahead, and Merkel's government has emphasized it wasn't involved in blocking the others, but must respect the decisions of local authorities.
Contemptible craven cow!
No wonder Erdogan's Foreign Minister Cavusoglu  sang Merkel's praises, saying that all of Europe looked to her for leadership on the continent's refugee crisis.
=======
Oh Yeah?
PPS A late news flash, which warms the heart.
Mounted police disperse pro-Erdoğan crowd in Rotterdam after family affairs minister was barred from rally and escorted to German border