French 'Green' Mayor- Don't Be 'Abrupt' With Illegals!
French authorities plan to evacuate more than half the migrants living in a camp on the English Channel.   http://abcnews.go.com/International/wireStory/france-clear-hundreds-migrants-dunkirk-camp-46206776
Half a loaf is better than none, so half a  cheer for anyone willing to roust out illegals from places they infest.
But no cheers at all for the ABC – not the left-liberal controlled Australian broadcasting outfit but its identically initialled 'American' media comrade…
……
…….
…which persists in bleeding-heart lies about the illegals, describing them as  people fleeing war and poverty in the Mideast and Africa….
There is NO evidence to identify these illegals as 'refugees,' except their own colourful yarns.
In fact ABC's white-wash words are exposed when they immediately continue their description by saying these crimmigrants have come in hopes of sneaking into Britain.
So they are NOT – if ever they were – fleeing from Third World miseries. They are in France.
=
=
They got into France from Italy, most likely.
These are modern, democratic countries which are perfectly ready to consider applications for 'asylum' from people genuinely fleeing. – but how many of these people appear interested in thus applying?
=
=
Like the Calais curs, they are wannabe welfare parasites and they, accurately, deem the material benefits available in the UK largesse trough much more yummy than anything on offer in France, or Italy!
The anti-social activity, including violence, among these undesirable aliens also resembles the former denizens of the Calais Jungle.
Interior Minister Bruno Le Roux wants the camp dismantled because of recent fires and knife attacks.
Incredibly, Dunkirk's Mayor, Damien Careme, opposes an abrupt closure…
=
Careme
=
I'd have thought the more abrupt the better – although just shifting them around France, as happened down the road…
…
…is no serious solution.
They need to be corralled and deported.
So what motivates Monsieur Careme to speak against a plan which will at least alleviate this on-going threat to public order?
Turns out he belongs to the….wait for it… 
 …Ecological-Green Party -EELV!
==
==
And his pro-crimmigrant bigotry was exposed months ago!
The Leftal, sorry, The Local, gave us a salivating account of how he barred the patriot party leader, Marine Le Pen, from inspecting conditions at the infestation site.
=
Marine
=
She was refused entry to a migrant camp in northern France…
Careme took to Twitter to say it was him who turned Le Pen away when she "dared to visit."
Yet his caressing concern for the crimmigrants was highly selective…it later turned out that former Baywatch star Pamela Anderson was welcomed with open arms.  https://www.thelocal.fr/20170125/marine-le-pen-refused-entry-at-french-migrant-camp
The French presidential candidate, front-runner now, so we hear, hit back tellingly.
"This is democracy a la Francaise!" she wrote, adding that the camp apparently only let in politicians who were pro-immigration. 
---
As ever, Marine spoke for real French folk when she later added that –"We have to send illegals home and control our national borders if not the camps will be rebuilt."
———
—-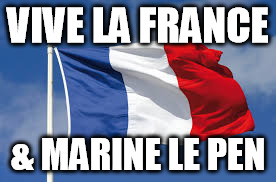 Vive Marine!
Oh, and just a footnote – how come Pinko Pamela was prowling among the primitives?

Her trip was organised by animal rights charity Peta France.

oooooooooo
ANIMAL RIGHTS?
Are we to assume that Mayor Camere banished signs like this in Dunkirk?

 

oooooooooooooo