Turk Royals Backing Erdolf – An Exercise In Ambiguity?
 The pleasant looking lady in the photo below is none other than Princess Nilhan Osman­oglu.
And that stern-faced gent is, I think, her Great Grandpa, or is it Great2 Grandpa, one of the last Sultans of the Ottoman Empire.
ooooooooo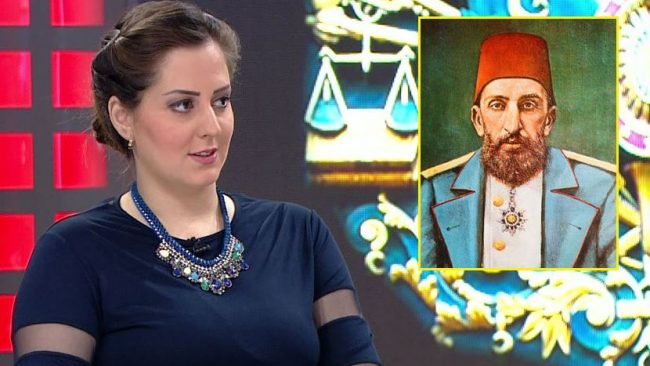 ===
As you know, if you're regular here, this is a monarchist blog.
Not that we focus all the time, or even often, on monarchism…
…
…
…but, since I am of Ulster-Scots descent, it's pretty much inevitable.
We have spoken up for kings robbed of their realms by voter fraud, as in Albania.
And we've focused on the good example set by local royals here in the Indonesian archipelago.
But, sometimes, it gets a bit tricky, as when we read in this article from The Australian, that Her Imperial Highness has issued a royal endorsement of Turkish President Recep Tayyip Erdogan!
She also favours Erdolf's cause in the forthcoming referendum which would, paradoxically, see him elevated to a much more powerful presidency of the Turkish Republic.
 ooooooooooo
It's frankly embarrassing that she and fellow members of Turkey's former ruling family are emerging as unlikely cheerleaders for Mr Erdogan – but it is not 'unlikely' at all, given that these imperial offspring are human beings and thus capable of the normal human emotion of gratitude.
Banished after the formation of the Turkish republic and ostracised under successive secular governments, members of the ­Ottoman royal family have been rehabilitated under Erdogan.
So naturally they appreciate no longer being snubbed and scorned for things that happened before they were born. Driving royal families into exile, internal or external, has been all too common, and is indefensible.
But the problem is that the Ottomans were not only sultans but Caliphs! The Caliphate had pretensions to authority over every Muslim in the world, a claim to allegiance utterly offensive to every sovereign government.
And when you know what Awful Erdolf's ideology is really all about –
–
 "The

mosques

are our 

barracks

, the domes our helmets, the

minarets

our bayonets and the faithful our soldiers." 
——
…and when you listen to his side-kick unveil his party's core thinking  –
=
………
"Holy wars will soon begin in Europe," Foreign Minister Mevlut Cavusoglu declared a week ago…
 —

—
…then you can understand that the 'royal question' in Turkey is quite different from similar debates in Bulgaria or Romania or Serbia..or Russia, for that matter.100 years on, debate rolls on over Russia's last tsar
In Turkey, it would not be merely a monarchical restoration. It'd be something much more menacing.
…

"You are dragging Europe into the abyss."  
That's Cavusoglu again!
————–
BTW, I found it a tad off-putting that, having properly described the lady as a princess, The Australian then suddenly referred to her as 'Ms Osman­oglu.'
That's as unacceptable as addressing the Duke of Bavaria, Prince Franz….
…
….who's also Jacobite heir to the British Throne, as Herr Wittelsbach.
But that's another matter!
=============
It's good that Princess Nilhan is a patriot – "We the Turks value our land and country above everything and show our loyalty like we're worshipping," she said.
…and she's visibly civilised – no head-shrouding!
Paradoxically, Kemal Ataturk, founder of modern secular republican Turkey, which is being demolished by Islamist Erdogan, could easily have used identical words. He was a true nationalist and also got rid of backward customs like the veil.
But there's something else the Princess said, which gives us pause.
Which 'lands?'
Her own land?
Or the numerous nations, from Greece to Crimea Our Enemy,

Erdogan

, Claims Mosul – What Next – Vienna?  which were held in sectarian bondage – those to which Gladstone referred in that famous denunciation we have covered in previous posts!
 ——
——–
Just to clarify, as I said above, this is a monarchist blog, but we don't give carte blanche approval to monarchs who misuse their authority to condemn their subjects to a life of Dark Age oppression.
Please note what we said about Brunei a year or more ago.