Beware! Very Short Fanatic 'Long March,' Jakarta, This Friday!
Not a fan in any sense of Red China's Mass-Murderer Mao, I am aware nevertheless that his famous 'Long March' across that vast country was indeed long.
That's what makes me laugh every time nasty fanatics use the words to describe their very short hate-strolls across central Jakarta.
Like English, Indonesian is ever-ready to borrow foreign words and phrases, and as you can see, if you read the link, even detik.com has done so.
Here's their headline.
Rencana Aksi 313, Salat Jumat di Istiqlal Kemudian Long March ke Istana
More importantly, for my local readers who might have reason to adjust their travel plans, that number represents the date of the fanatic frolic, viz. 31st March – this Friday!
As usual, like the previous 'halal shuffles…'
…the actual shuffle ('march') goes from the big Istiqlal Mosque down to President Jokowi's palace.
———
---
I could do that in about twenty minutes, max!
—–
But of course the shufflers, sorry, marchers, will have to proceed slowly, to accommodate ranting – it takes your breath away when you repeatedly indulge in bitter, bigoted, sectarian hollering.
…The protesters, most of whom were men dressed in white Muslim attire, were heard yelling, "We want a Muslim governor," "Burn Ahok!"  Breaking News – Jakarta Cops Tear-Gas Islamist Louts! 
I use those words – 'bigoted' and 'sectarian' – confidently because the report says it's the FUI behind this jolly outing.
=
=====
The Forum Umat Indonesia should be familiar if you have been in the habit of reading our blog for a while.
They are an appalling gang, as our illustration below indicates. 
====
——
Their gang leader, Khatthath, is a real piece of work. Check him out –  –
But strangely, the detik.com report only quotes a notable from the FUI's like-minded jhadist jerk outfit, the FPI – who else but our local IslamoNazi Jakarta gauleiter…Habib Novel, another piece of work!
However, they are indeed birds of a feather, no doubt both in agreement with that other fanatic, Habib Rizieq, whose infamous words on the bizarre trial of Governor Ahok continue to echo around Jakarta.
-==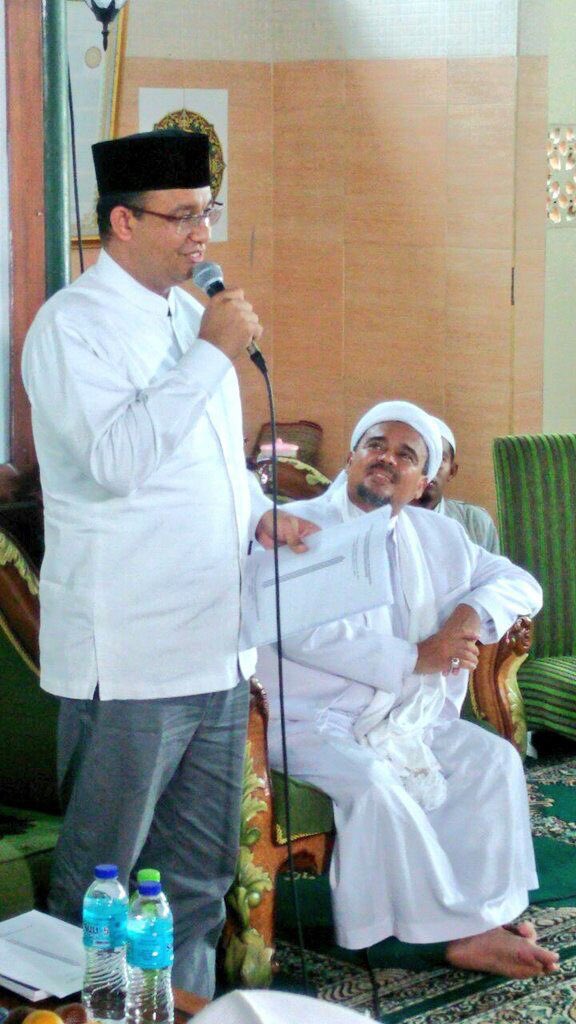 Habib Rizieq, seated, listening with rapt attention to the man who hopes to defeat Ahok in next month's election, Anies Beswaden, a 'moderate' Muslim 'intellectual'.
=
Rizieq thinks the Jakarta Governor deserves to be KILLED for quoting a Koranic verse –
"We encourage the government to process the death penalty for

Ahok

as soon as possible," said

Rizieq

.  http://www.suara.com/news/2016/10/14/134313/
—
And this hatred is why you may face traffic problems downtown on the 31st.
Okay, simply a public service announcement.
Stay home on Friday if you can.