France 24's "Debate" Features Jew-Bashing Convicted Terrorist!
I tuned into France24's 'Debate' on Wednesday night and was suitably disgusted that they'd invited into their studio a representative of the IRA murder-gang's 'political wing,' Sinn Fein, a hard-faced cow named Martina Anderson, MEP.
There are so many traitors active in Ulster politics that I had to look her up on wikipedia, and, via Google, I also managed to get quite an agreeable picture of the vixen.
—————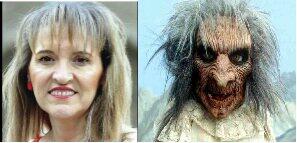 Found this via Google Search – which one's Anderson?
======
She became involved in the Irish Republican movement in the late 1970s, is a former ;volunteer of the Provisional Irish Republican Army (IRA) and was in prison for IRA activity for 13 years until she was released as a condition of the Good Friday Agreement…

As we all know, the Bad Friday Agreement unleashed hundreds of IRA vermin like Anderson, and I certainly haven't heard of many (any?) of them expressing repentance for their treasonous crimes. 

But besides that, her more recent record deserves scrutiny, as when she hit the headlines last year –
Israelis Are 'Like a Rash,' Says Irish Member of European Parliament
The bitch was speaking at an event in Brussels organized by the European parliamentary group GUE/NGL, representing several of the Europe's far-left wing and Green parties…
————
…such as Anderson's own Sinn Féin.
Unsurprisingly, her Nazi-style outburst provoked indignation, with Gilad Segal, a former diplomat with the Israeli Embassy in Brussels, rightly observing that "As a convicted terrorist who still has ties and relations that go beyond the PLO to Hamas nowadays, she is in no position to preach." 
——
Deputy First Minister Martin McGuinness spotted in the crowd
——
I'd say 'late and unlamented' but then William 'Cigar' Clinton did lament, with a sickening eulogy at the swine's funeral!
——-
Sinn Fein has long been intertwined with Arab terrorism.
00000000000
Hands Across The Sea of Blood – SF/IRA Still Shrills For Israel's Enemies!  
00000000000
It's a pity President Trump allowed the scum into his St. Patrick's Day party last month.
Too many Americans still inexplicably treat Sinn Fein/IRA as some sort of 'liberation' movement – like the Viet Cong?
Why do they overlook Blood-Beast's trip to Havana for the funeral of the totalitarian tyrant Castro? Gerry Adams 'PROUD' to attend Fidel Castro funera
—
Wise monarch, to wear gloves when shaking McGuinness's blood-stained hand
——
But then how can Brits complain, when their rotten sell-out government forced HM The Queen to shake hands with murder?
PS – France 24's 'Debate' was about Brexit. Had they wanted a pro-EUSSR participant, there were plenty they could have invited. Had they wanted one from Ulster, they might have chosen one from the British majority there.
Instead they had the terrorist, and she never mentioned Ulster once, simply ranting on about 'Ireland,'as if that were more than a geographical expression.
More on this another day.