Jakarta's 'Moderate' Anies, Adored By Extremists, Disowns Jewish Tune!
Hilarious story in the Jakarta Post, all about the once-upon-a-time 'moderate' Muslim 'intellectual,'Anies Baswedan, who wants so badly to become the capital city's governor that he toddled along to explain himself to a fanatic Islamist gang…
———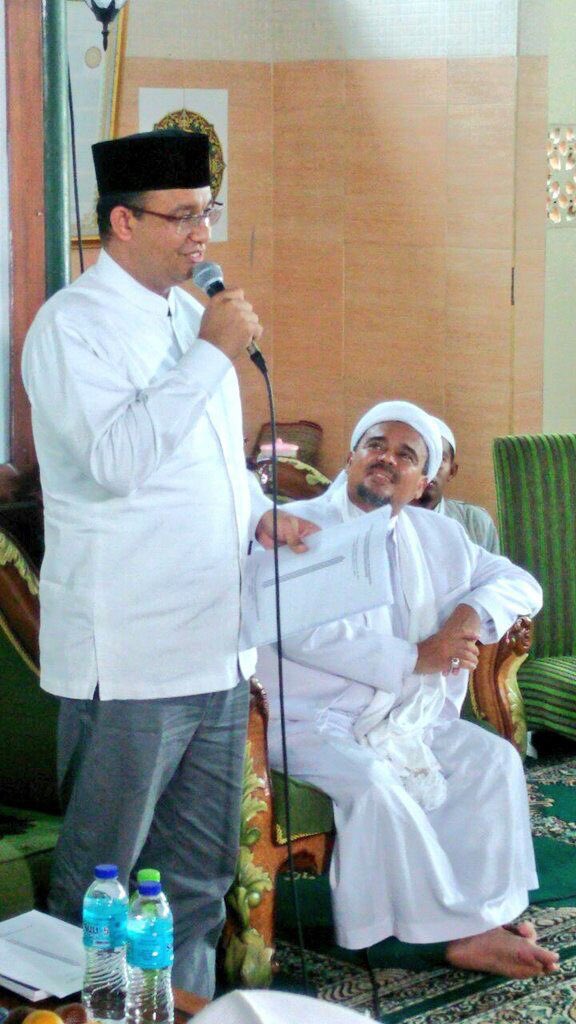 Anies Wins an adoring smile from ferocious fanatic Habib Rizieq, who thinks the Christian GovernorAhok should be slain for mere words.
"We encourage the government to process the death penalty for Ahok as soon as possible," said Rizieq.  http://www.suara.com/news/2016/10/14/134313/
000000000000
Anies has been busily denying that one of his campaign ditties sounds highly similar to the song "Hashem Meleh" by Jewish singer Gad Elbaz. 
You'd think Indonesian politicians wouldn't give a tinker's cuss about whether or not one of their campaign tunes resembles Mr. Elbaz's hits.
==
———–
Indonesia, after all, is nowhere near the Middle East.\

But if you think so, think again.

Attitudes here are not dictated by geographical logic but by sectarian solidarity, as I had wearily to point out when Israel last retaliated against Palestinian terrorism.

TVOne's endless playing of a dreary pro-Palestinian song, and the way it decorated its 'news' programming with anything-but-impartial colours….

——–

…exemplified the pathetic mind-set.
===
So we should not be in the least surprised by stern denials from Anies' HQ that his jolly jingle was plagiarized from the Israeli band's song…
They boldly declare that  "our song came first, in April 2014, while the Israeli band released its song later, in January 2016."
I rarely praise the Jakarta Post but this time the journos there did their home-work.
The statement, however, is in contradiction with the fact that the song "Hashem Meleh" was uploaded on Jan 27, 2013, as can be seen on the official Youtube account of Gad Elbaz.
So!
Something of a serious situation faces the folks working for the "moderate intellectual!"
But their attempted refutation of the claimed resemblance raises other questions, since they argue that their song was adapted from the Prosperous Justice Party's jingle.
Now anyone who purports to be moderate would surely not want in ANY way to be associated in the public mind with the Prosperous Justice Party, known here as the PKS.
Likened by many to the Muslim Brotherhood, it is utterly fanatical. One of its recent leaders was the notorious Anis Matta…
=
…whose infamous poem of praise for mass-murderer Bin Laden, after 9/11, we've mentioned more than once.
And even ignoring the Islamist angle, there's another recent PKS leader who is not exactly a grand advertisement for political propriety.
Just read all about Mr. Luthfi!
=
Luthfi
Beef Scandal – Islamist Fanatic Luthfi Jailed 'Till the Cows Come Home!' 
But it would be unfair to abuse Anies Baswedan for borrowing even a fanatic party's music.
A tune's a tune, right? I myself have no problem with adaptations of other people's refrains.
You can keep your forty shades of green, or any other hue..
Just as long as you will leave, for us, that lovely royal blue!
00000000
Anies certainly sees no shame in it.
So how come his crowd are so desperate to disown the Israeli song?
Does somebody fear even a whiff of Jewry will harm his chances against the incumbent Ahok?