Arkansas Double-Whammies Despicable Duo – Bravo!
The environmentalist lobby ought to be cheering today, because two foul creatures ( shown in the  photos below) are no longer sharing the Earth's air with the rest of us.
=======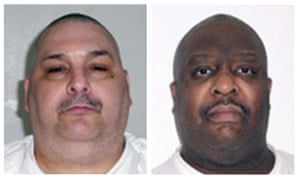 Two vile monsters – Jones and  Williams
=
Looking at the left-liberal Guardian, you really have to persevere to learn what they did, wading down through a dozen paragraphs of whining, before finally reaching the essential information.
Jones raped and murdered  a defenceless woman in front of her child. He strangled the bookkeeper with the cord to a coffee pot while her 11-year-old daughter, Lacey, who survived, was in the room..;
=
=
Williams was convicted for the rape and killing of 22-year-old Stacy Errickson, whom he kidnapped from a gas station in central Arkansas. Authorities said he abducted and raped two other women before he was arrested over Errickson's death. https://www.theguardian.com/us-news/2017/apr/24/arkansas-double-executions-supreme-court-jack-jones-marcel-williams
And all these left-liberal freaks and their lap-dogs in the media can get upset about is whether the executions were carried out in a neat and tidy manner?
Neither of the pigs denied their guilt.
So well done, Arkansas Governor, Asa Hutchinson!
=-
=
And may you soon be free to implement justice and the people's will and thus encourage all the millions of people in countries like the UK, Australia and Canada.- 'democracies' where the voters were never consulted by their arrogant 'representatives' when the death penalty was abolished – to renew their campaigns for restoration.