President Wins 'Praise' For Sitting Down With Fanatics?
Did everyone in Indonesia 'praise' President Jokowi for meeting the most intolerant Islamists in the archipelago?
I doubt it, but the sycophantic headline in the Jakarta Post…
Jokowi praised for meeting with opposition Muslim organization during Idul Fitri
…might lead readers to think so.
In fact, what appeared under that headline included only one voice of 'praise,' and that was from his very own fan-club, the 'President's Volunteer Forum (Bara JP)'  
……..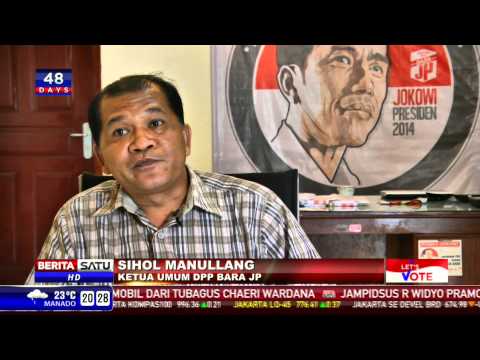 …..
Others may take a different view from that expressed by Sihol Manullang. For the JP to describe those Jokowi met as an 'opposition' movement is somewhat gilding the lily.
One can oppose some or all of the President's polices but the  the 'Muslim orgainsation' referred to is none other than that inveterate enemy of free speech, the National Movement to Safeguard the Indonesian Ulema Council's Fatwa (GNPF-MUI),
Indeed, the JP correctly reminds us of that gang's role as the mastermind of a string of mass rallies protesting the leadership of former Jakarta governor Basuki "Ahok" Tjahaja Purnama, using his backgrounds as a Christian of Chinese descent as one of its objections.
Those hate-demos were a blight on the face of Indonesia's image as a pluralist country once famous for its tolerance and commitment to religious liberty.
=====
Barbaric Islamists in Jakarta, burning Ahok in effigy
---
Ahok, now imprisoned for 'blasphemy'  – seriously, in the 21st century!
=
==
The photo of the meeting in the JP does not include one of the GNPF-MUI's most infamous notables, Habib Rizieq, the 'grand imam' of the white-shirt vigilante gang that calls itself the FPI, the Islam Defenders Front.
But Rizieq's absence is no indication that the fanatics who did attend the chummy chat with Jokowi omitted the 'grand imam' from their delegation out of choice.
Fact is, Rizieq is not ANYWHERE in Indonesia at the moment.
But individuals. albeit fascinatiing, are secondary.
The President's guests, and the MUI itself, represent the most extreme sectarian elements in this country.
Many MUI 'fatwas' have long been either a matter for jest, like their anti-yoga decree, or examples of quite terrifying hostility to religious liberty, such as that notorious anti-Ahmadiyah diktat. Since that edict was issued, the totally peaceful and  inoffensive Ahmadi minority has gone through hell.
Even during the recent 'holy month,' we had to read about monstrous anti-Ahmadi hate-crimes..
=============
We have over the past few years had to report on to all kinds of offensive stuff from MUI leaders.
=======
=
If you wish to know more about the MUI, insert the three letters into my search box, or again, here are a few familiar choice samples of MUI thinking..
—————
MUI's Deputy Chair, Ma'aruf, who kindly advised everyone that FGM is a 'human right!'  
 https://rossrightangle.wordpress.com/2013/03/06/clitoral-clip-no-scraping-suffices-tell-us-islamist-scholars-why-do-it/
And this enlightened gent… 
===================

Syamsul Maarif,  General Secretary of the Indonesian Ulema Council (MUI) Jakarta
"If the act of adultery is by a married person, then stoning is the sentence, while if unmarried, then it's whipping," he said.
 http://www.suarapembaruan.com/home/mui-dukung-pelaku-kumpul-kebo-dipidanakan/32705
…...

Why anyone, let alone a pluralist head of state, would give them house-room, is itself very disturbing.