Get Your Tickets Soon – Jakarta Shariah Tourism Boom?
We did report on Sandiago Uno's astounding promise prior to the Jakarta election – as a  result of which he's now Deputy Governor – that he envisioned a sharia-inspired nightlife entertainment network in Jakarta.
But we merely noted it, in a post which covered all the issues that were alarming normal people. 
Not that Sandiago Uno himself is in any way unprepossessing. On the contrary, he comes across as very presentable and personable!
=====
…
But now this rich, American-educated ( yes, truly!) entrepreneur has shown he's a man of his word.
Sandiaga Uno to establish sharia tourism zone in Jakarta
Note, no question mark! This guy is serious about his plan, for the Senen area of  the capital.
 "I think it will be interesting if there is a religious tourism zone [in the area], which is properly arranged with tents. Hence, mobility can be ensured."
I welcome that last sentence. Mobility – the ability to get through Senen as fast as possible – would need to be an integral part of any such scheme, as many of us encounter horrendous traffic jams there.
……..
…..
I sat on a  bus a month ago for nearly an hour, just waiting to get through the underpass beside the big shopping area.
But what delights would await folks who flitted in and out of Sandiago's tents?
Many places popular with tourists who come to Jakarta feature what are invariably described as 'sexy dancers.'
=
=
Not just 'dancers,' NB, which has always made me smile, wondering if the proprietors fear that patrons would not recognise the dancers' sexiness without being told of it!
–a–
However, I somehow doubt that the tents would accommodate any spectacle of that sort.
Sandiago previously talked of such joys as Koranic readings, but would that really draw shariah-fans to Jakarta when they can easily find THE REAL THING…
=

=
…by taking a short flight up to Indonesia's most northerly province, ACEH, proudly dubbed by some of its inhabitants as the 'Verandah of Mecca,' the ONLY province in the archipelago where shariah is enshrined in the local legal code of law.
No tedious tents required there, because the quintessence of shariah morality is displayed in the main squares…
…..
….
…….
….young women being beaten by cowards too ashamed to show their faces, before a salivating rabble of voyeurs and fanatics.
Nor are dancers, either sexy or otherwise, a popular phenomenon up there, where such repositories of wisdom as this kindly old gent have made plain their demerits…
———

—————
…to the extent that even the graceful and utterly decorous traditional Acehnese dancing has drawn disapprobation.
Muhammad Thaib, Regent of North Aceh has  banned all adult women from dancing when welcoming guests in North Aceh, adding that only children should perform the tradition.
==
Thaib
 "… cultural preservation should not damage Islamic Shariah values, such as dancing performed by adult women.". http://www.thejakartaglobe.com/news/north-aceh-head-bans-women-from-dancing-in-public-2/
Nightmare stuff, yeah?
But at least we can avoid going anywhere near Aceh, and Senen.
How long normal folk can expect to find fun in Jakarta remains to be seen, however.
=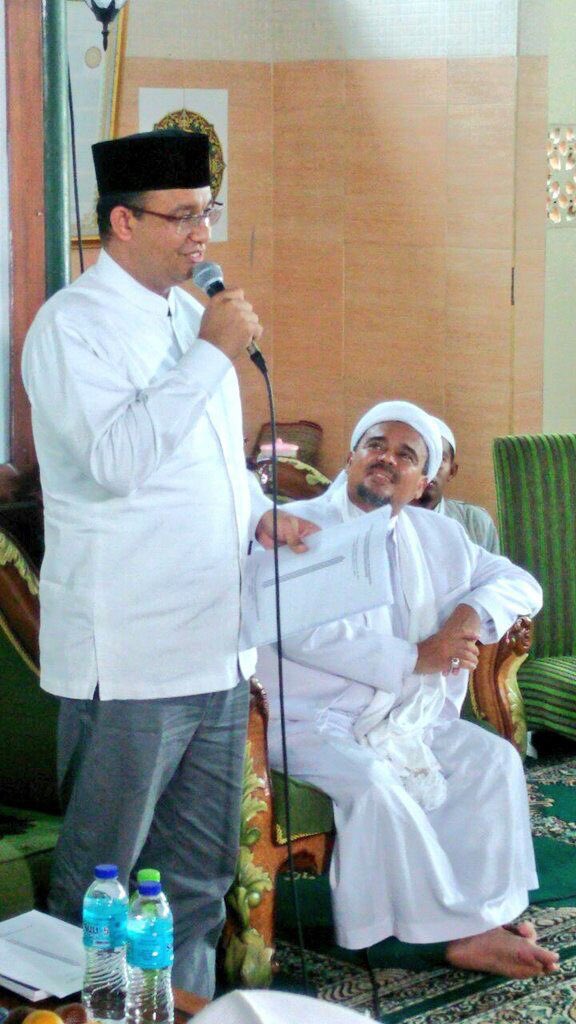 =
Sandiago's big boss is the Governor-elect, Anies Baswedan, seen above with the currently hard-to-get –Police Add FPI Leader Rizieq Shihab to Most Wanted List -'grand imam' of the white-shirt sectarian gang calling itself the FPI, self-styled 'Defenders of Islam…'
……
 
…….
….and Anies may be tempted to listen to benighted FPI views such as that expressed in neighbouring Bekasi.
——
There the local government's

Tourism

Special Committee was told awhile back by the Chairman of FPI in Greater Bekasi that the Muslims in Bekasi reject the draft law on one point – it would legalize nightclubs.
And here in Jakarta itself, there have been serious calls for a shut-down of nightlife at MIDNIGHT…
==

…with a senior cop having somehow decided that drug abusers are clock-watchers.
National Narcotics Agency (BNN) chief Comr. Gen. Budi Waseso has expressed his support for the Jakarta City Council in its plan to restrict the operational hours of nightclubs until 12 a.m. as stipulated in a draft bylaw on tourism.
 http://www.thejakartapost.com/news/2015/10/17/greater-jakarta-budi-waseso-supports-nightclub-curfew.html
—————
It can't happen here?
There's a bill going through Indonesia's parliament which could put you in the slammer for having a beer in your front yard, or even indoors…