Imagine Being A London Teenager…In 1945!
Of course in 1945, neither in London nor anywhere else, had anyone heard the word 'teenager.'
People were either children or adults. If you were 19, what were you?
You were probably working, unless you were rich or at university. I imagine if you lived in Hackney, neither of the latter applied, and if you were a Hackney girl, even less chance of getting to college than your brother or the other boys in the street.
But  they, and you, may well have been in uniform. for although the war was newly over, demobilisation took a while.
I wasn't even born then, so I am no authority on the 'demob' process!
—-
St. Paul's Cathedral and vicinity
=======
The country was in bad shape, but good spirits. The war, after all, had been won.
If you were 19 then, you were well aware that your parents had seen hard times before the war…
"Lower-class, unemployed white people lived for years in appalling slums without a breakdown of public order on anything like the present scale; in the midst of the depression, people in Brixton went out, leaving their grocery money in a bag at the front door, and expecting to see groceries there when they got back.
—————————–
"Riots, criminality and social disintegration are caused solely by individual characters and attitudes. So long as bad moral attitudes remain, all efforts to improve the inner cities will founder."

…but the war was over and you had all your life to look forward to.
And what an eventful life it would be.
Within a decade, the King whom you'd cheered on VE Day would be dead – a monarch much mourned, because his people remembered his wife's words when asked if the princesses would be evacuated to Canada –
==================
…they won't leave without me, I won't leave without the King, and the King will NEVER leave… 
=======
When you were born, Britain ruled an empire that spanned the world.
Within thirty years of VE Day, most of that empire had gone.
But if you were like the vast majority of your generation, your loyalty to Queen and Country never wavered.
Not even while, all around you, as in much of London, your country, or at least that part in which you lived, was changing, to such an extent that your parents would not have recognised it.
Your consent was never sought for the changes.
You got to vote in every election, but no matter which party, Labour or Conservative, got in, the transformation rolled on.
Eventually, when voices of dissent were raised, laws were introduced to keep them hushed.
==========
Any major politician who defied this trend was driven into the wilderness. 
It was made clear that any criticism you might utter of what had happened to your country needed to be said with a prescribed preface,
'I'm not a racist, but…'
 ———–
And finally, after a full but humble life, you make it to the wintry days of widowhood, still in Hackney, your husband gone and you're all alone, and, OMG, you are NINETY TWO YEARS OF AGE.
====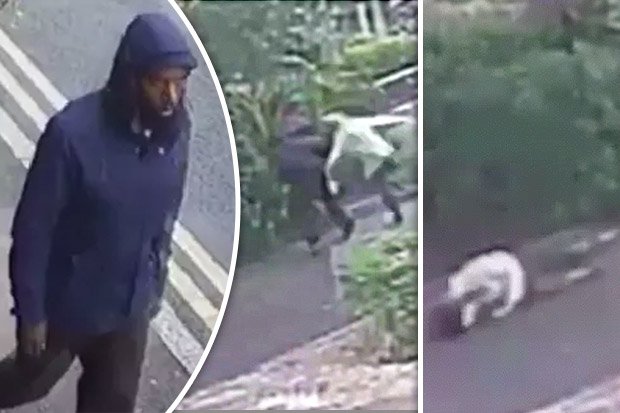 ==========\
Then you're walking down the road on a summer's day, on the way to see your doctor, and a filthy savage leaps at you, grabs your bag.
When bravely you won't let go, the beast drags you screaming along, in the Hackney you've known for nine decades.  
Anyone with information is urged to call police on 101 or Crimestoppers anonymously on 0800 555111.