In Mama's Reich, Dissent Censored By Lügenpresse!
Congratulations to the German patriot party, the AfD, on a valuable victory over the state Lügenpresse – lying media – this month, with a court order prohibiting it from referring to the AfD as an extremist party.
Even the DW headline, please note, has omitted the usual smear-words 'far-right' and now refers to them as 'rightwing populists.'
So good luck to their spokesman Jorg Meuthen, who's suggested further legal action against the notorious state media bias.
"It's difficult to get issues across if they're not communicated in the publicly financed media," Meuthen said. "We're considering right now whether or not to sue to appear on the talk shows. A lawsuit is possible."

We've noticed – hard not to notice -the gross bias before.

0000000000000000

Many a shocking example we've shown you before, the media clique pandering to the ruling class's calls for crack-down on dissent.

Herr Meuthen revealed the sheer magnitude of the deliberate in-crowd censorship.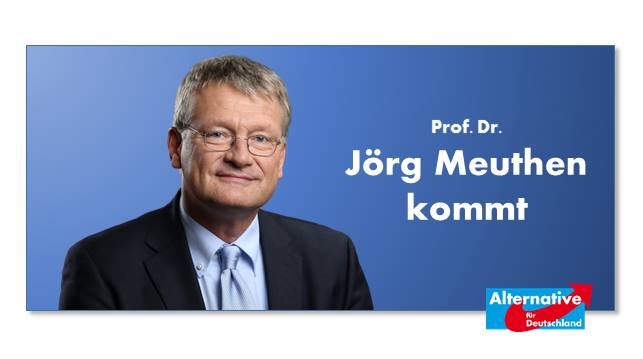 …in the first quarter of 2017 only four AfD representatives had been invited to appear on Germany's four biggest political talk shows on the public broadcasters ARD and ZDF…"That's only 2.5 percent!" 
Again, we should not be surprised, given the shameless prejudice exemplified by the ARD, such as when it ignored the murder of a young German woman by a savage.
National broadcaster ARD provoked outrage by initially ignoring the story…
oooooooooo
And don't forget that vicious leftist we've mentioned before!
000000000000 
---
The editor-in-chief defended her decision to suppress the rape story on public TV broadcaster ZDF: "We don't want to inflame the situation and spread the 

bad

 

mood

."   http://www.gatestoneinstitute.org/6501/migration-crisis-

germany

0000000000

With breath-taking disregard for facts, the media creeps deny their guilt, denying even that fair play must be an iron-clad criterion for deciding who gets in front of the cameras.

"The editorial staffs of the shows themselves decide which guests they want to invite to which shows," ARD editor-in-chief told Focus. "There are no quotas involved in the selection."
00000000000

Even though they're mainly financed by mandatory monthly contributions of 17.50 euros ($20) from every German household,

 and the law requires political neutrality, 

media attorney Tim Hoesmann told Deutsche Welle. "And from my perspective I don't think this lawsuit would have much of a chance of success because there's no right to participate in the talk-show format."

=

In Mama Stasi's Reich, says Hoesmann, these 'talk-shows' are  free to decide who they wanted to invite as guests.

oooooooooooo
So why pretend to be neutral –  just admit the bias !
oooooooooooo
What's needed is root-and-branch reform -as AfD's manifesto for this year's big election demands.
…mandatory contributions to public broadcasters to be abolished in favor of a pay-as-you go system that would apply only to those who actually watch the broadcasters' programming.
It also wants to see the members of the supervising committees that oversee the broadcaster directly elected by voters.
That would be a huge step forward!
As DW anxiously shrills…
If they were to become reality, such suggestions would transform Germany's media landscape beyond recognition. 
JAWOHL!
NOT BEFORE TIME!