Chair Wars? Fretting For Fat-Asses In The Big Apple!
As happens so often these days, I had to check to see if this report was a joke.
=======

The size of our society's chairs is now being considered a "microaggression" against overweight people, according to a guide released by The New School, a private college in New York City. http://www.nationalreview.com/article/450431/chair-size-microagression-new-school
======
What sort of 'society' are we talking about?
The Ancient Order of Gluttonhood?
---

—
The Fraternity of Fat-Asses?
Please read the linked report, and enjoy a Monday morning chortle at the mindless behaviour which colleges can get away with, and still not lose their accreditation.
And here's a previous post which you may find useful…
…if you need to familiarise yourself with the imbecilic PC term 'micro-aggression.'
===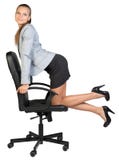 Oh, and here's an example of how chair problems may be pleasingly handled.