Spain- Five Rabid Curs Shot? Great, But All Those Others?
The news from Spain is sad indeed, decent people dead, double figures, plus 100 injured, some very seriously, victims of Islamist evil.
Only some small consolation, but nevertheless nice to know, that five of the vermin responsible have been taken out by cops.
Meanwhile….
=

=
…the hunt goes on for other jihadist swine involved, and one hopes devoutly that they will be killed rather than captured, because…
…there is no death penalty in Spain!
Surely the average Spaniard must contemplate how sensible and just it would be to string the villains up!
For my part, it would not be unreasonable to wait to see the final death toll from this latest attack…
… then bring out out of Spanish prisons an equal number of swine already convicted of terrorist offences and put them before a firing squad.
==
The absence of capital punishment is not merely because of the infamous EUSSR diktat, nor even some stupid law that can be repealed by national parliaments if enough legislators have the cojones to defy Brussels
In Spain, the very constitution of the country forbids execution…
/
/
…, no matter how vile the crime!
Is it this kind of entrenched rotten liberalism which also explains the effete failure of Spanish armed forces to defend their shores against alien incursion?
========
Serious vetting?
Savages storm a Spanish beach, this month, unhindered
==========
I'm not criticising the rank and file but the political elite, who quickly fell in line when Brussels ordered an end to effective measures to curb crimmigrants on the North African front.
=====
Is there some special Spanish spiritual disease which inhibits clear recognition of evil and/or how to excise it?
More than once we've pondered why no significant patriot party has emerged in Spain, one of the few countries in Western Europe which had to suffer the hell of caliphate rule.
==

===
One of the news reports today reminded us that Spanish security forces have no less than a THOUSAND Islamists under surveillance, for fear of terrorist activity.
Who let them in?
Is there NO vetting of immigrants, legal or illegal, to endure they do not carry shariah fanaticism with them?
Obviously, any Spanish government worthy of the name would declare a state of emergency, arrest them all, and deport them, no fooling about with tribunals or appeals.
==
==
If Brussels or that damnable court in Strasbourg tries to interfere, tell those decadent clowns to take their appeasement 'rights' rot and shove it where the sun never shines!
Alas, that infinitely desirable scenario will happen no time soon, not with Europhiliac Rojay as PM, who is too interested in getting the Euro-Commissars' help to stealing Gibraltar, not with the PSOE socialists…
=====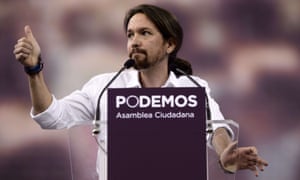 ==========
…and not with Podemos, led by a pony-tailed post-hippy pinko.
The sooner sensible patriotic Spaniards get themselves organised and mobilise against the left-liberal establishment, the better, and not only for their country but for all of us!.