Time For Canada To Take Up Arms Again?
Since Scheer Hypocrisy regards himself as above talking to The Rebel unless it stops being rebellious…
=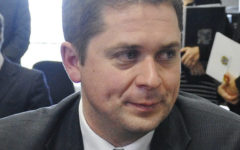 …it seems both right and proper to give that rare example of sensible Canadian media as many mentions as possible.
So just a look today at an interesting piece there on a ding-bat scheme to jazz up Canada's distinguished Coat of Arms…
==
Purge of Canada's British history continues: Coat of Arms latest target of "diversity" warriors
000000000000000
…a heraldic masterpiece which I have often used here to brighten up my writings on the land of my birth.
Almost all the hatred, fear and loathing of anything that reminds Canadians of where their democratic heritage comes from – the British North America Act of 150 years back – is based on hair-brained hogwash.
=
=
But that's no guarantee, in today's Turdostan, that further desecration of our heritage will not come to pass.
Then gird up your loins for one more battle – but rest assured they'll do their liberal worst to preclude any democratic input, just as they did when they changed the flag in 1965…
…..
…
…and when they again failed to hold a referendum on metrication.