Appeal For Info – When Were The UK Tories Castrated?
Living in the UK during Mrs. Thatcher's era, of course I took an interest in politics and I very distinctly remember watching tv reports on the party conferences.
I found the Tory Party's annual get-together annoying, because although the grass-roots members DID have the right to debate and vote on the motions…
=====
…their right actually to propose motions was carefully controlled by the party establishment.
=
=
If my memory serves me well – which it usually does – the members were given a one-off special treat each year, a ballot that allowed them to choose ONE motion, out of maybe a dozen or so, that THEY wanted to debate.
If they were so ungrateful as to indicate a preference for a motion not to the in-crowd's taste…
…….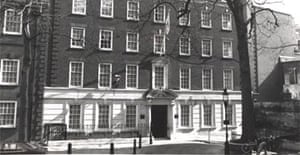 Tory Central Office, Smith Square, London
……..
…the stuck-ups who ran Conservative Central Office ( appointed, not elected )  would swing into strong-arm mode, going around each branch delegation, bullying or cajoling them into voting AGAINST the motion they themselves had voted to debate.
The supine character of rank-and-file Tories was such that the bigwigs never failed. But at least there was a hazy commitment to let Conservative members have some say in their own party.
=
=
Times have changed.
Or so it seems, if a pro-democracy Conservative reformer is to be believed – and I certainly believe him.
"This calamity arose because just a few people drafted the manifesto. Oh, for the days of the party conferences when we had motions for debate, and a vote at the end of them," he said. Activists at Conservative Conference have opportunities to address the auditorium but there are no votes on policy motions.
https://www.theguardian.com/politics/2017/oct/02/campaign-conservative-democracy-grassroots-group-launches-mock-election-party-chair
NO VOTES!?!
Can any of the remaining REAL conservatives in that once-great party tell me when the act of political castration occurred?
When was democracy excised from its deliberations?
NOW I understand what Theresa May meant when she declared that, notwithstanding her position as Conservative Party leader…
=
=
….her own allegiance was to the 'liberal democratic values' she shares with the EuroCommissars.
PS – If you are an honest Tory, which must qualify you for 'protected species' status, here's a link to that brave dissenter's group.