After Khadr, Now Khaled – More Exaltation Of Evil!
First, decent people around the world had to withstand a powerful urge to vomit when Justin Turdo awarded the Taliban scumbag Omar Khadr that ten million dollar prize for…what…?
=
=
…well, for being a scumbag, really, since Turdo adores scumbags!
ooooooo
Now we read of another piece of dog-sh-t, female this time…
====
=====
….being awarded a parliamentary platform in the heart of Europe, where 'the GUE/NGL – a political group uniting parties to the left of social democracy…'
GUE/NGL – European United Left – Nordic Green Left
… hosted a 'seminar' at the Strasbourg HQ of the European Parliament, with guess who as one of their guest speakers?
None other than Leila Khaled.
=

Poster for fans of satanic evil
=
If you're old enough you won't have forgotten Leila Khaled.
She gained worldwide notoriety when she played a key role in two terrorist hijackings, in 1969 and 1970, of a TWA and an El Al flight.
And  the mangy old cow hasn't changed her spots!
Just look at her snuggling up with Martina Anderson MEP, another unpleasant vixen…
=====

Khaled with Anderson, who said –
"Sinn Féin stands shoulder to shoulder with the people of Palestine and it was one of my great honours to have led the Delegation for Palestine here in the European Parliament.
"Palestinian women stand dignified in defiance of all that Israel can throw at them. We must stand beside them…'
======
…whose affiliation is to Sinn Fein, which UK readers, at least, should know is the 'political wing' of the IRA murder gang.
We've had cause to mention Anderson before…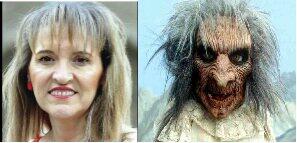 Found this via Google Search – which one's Anderson?
…….
…though we used a different photo then!
 0000000000000
The author of the piece in EU Observer, a Swede named Gunnar Hoekmark, accurately describes her as 'a member of the Palestinian terror group Popular Front for the Liberation of Palestine (PFLP) and a hijacker of two civilian airplanes.
Alas, Hoekmark is something of a left-liberal himself, like many who skulk beneath the banner of the so-called 'centre-right' gang in Strasbourg, a gang so NON-'right' that even David Cameron pulled the UK Tories out of its ranks…
=
=-=
…and so he can't resist the temptation to mix in a lot of the anti-patriot prejudice exhibited by phoney 'conservatives' of that sort, a load of anguished hogwash about the populist-nationalist surge in Europe.
As part of the Swedish political establishment, that's no surprise.
But his facts about Khaled and the other Jew-haters at that 'seminar' are indisputable.
I suppose Jeremy Corbyn and his ilk, who are fans of both Sinn Fein/IRA and the Palestinian gangs…
…..
… will see nothing wrong with letting garbage like Khaled into civilised countries.
But I think a lot more people, all over Europe, will be horrified.