Bravo, FPO – But Beware Far-Left Anti-Democracy Stunts!
A good enough result for Heinz-Christian Strache, leader of  Austria's patriot party!
=
=
The FPO has won at least 25% of the vote, and it would be strange indeed if the OVP under Herr Kurz did not bring them in as coalition partners.
But in a subversive side-show, only – and perhaps significantly- reported by Al Jazeera – over TWO THOUSAND people WITHOUT AUSTRIAN CITIZENSHIP have voted in cities across the country…
(my emphasis)
True, the anti-Western Arab media report at once adds that these were 'symbolic elections' but this is not the first arrogant stunt of its kind in Europe – just a month ago in Berlin, we saw a similar affront, this time to German democracy…
========
…and the far-left organisers – "SOS Mitmensch", a Vienna-based human rights group –  are quite brazen about their intentions.
"We think it's very important for people who live here to participate in democracy," the pro-crimmigrant gang's Alexander Pollak, said.
=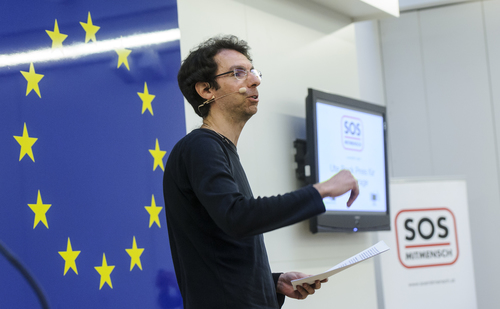 Austria's Enemy Within, Pollak – note whose flag he likes!
=
Incredibly, Comrade Pollak seems genuinely shocked that non-citizens do not have the same rights as citizens! 
…many residents of Austria- including some who were born in the country – do not have citizenship and are not allowed to vote, he said..
What planet is this geezer from?
Cats don't bark, dogs don't sing, AND…
=
=
…if you're in somebody else's country, working or idling, then you are a GUEST, with no rights to participate in its governance.
=
I've been resident here in Jakarta for not far off twenty years and have plenty of opinions, and am happy to express them, as readers know!
But it wouldn't even OCCUR to me to demand a vote, because, Comrade Pollak….
I am not Indonesian, any more than any of your alien 'voters' are Austrian!
Yet he witters on mindlessly.
Pollak's agitprop outfit has been staging this nonsense annually since 2013.
Time they are advised to cease and desist and leave the responsibility for running Austria to the Austrian people.