True Solidarity Against Gaystapo – Karen's Bucharest Battle
Many of you will remember Karen Davis, who became a prisoner of conscience in the USA two years ago, when she was jailed for  five days after refusing to issue licenses for homo-weddings in Kentucky.
=====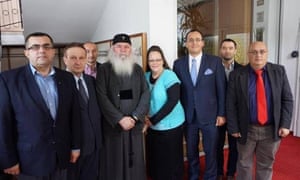 =====
Now she's showing true solidarity, spending nine days in Romania, to work with the pro-decency forces there, organised as Coalition for the Family.
There's to be a referendum soon, at last, on a constitutional amendment to outlaw so-called 'gay' marriage.
It's taken Romanian politicians long enough to get on board, 
…a petition calling for a referendum on constitutional change gathered 3m signatures in 2015 – six times the number required to put the demand before parliament.
But the good guys and gals are determined.
"We have the constitutional right and moral obligation to defend the family from trends in modern society that reduce its importance and accelerate its decline…"     https://www.theguardian.com/world/2017/oct/13/romania-anti-gay-marriage-campaign-kim-davis
More time has been wasted putting the proposed amendment up for a court ruling, as if judges have any right to intrude on democracy…
…but with the support of all major political parties, is thought almost certain to win parliamentary backing, allowing the referendum to take place possibly as early as next month.
British and American readers will envy Romanians their chance to take a stand against aberration, aware that the U-turning Creep Cameron arrogantly denied Brits a vote on the issue…'
——
=====
…and how the US Supreme Court subverted decency 5 votes for homo-weddings, 4 against, offering no vote at all to the millions whose values were thus flouted.
Courageous Karen has set a splendid example of solidarity, caring about decent people far away who are fighting a brave battle against decadence.
What a good Christmas Present a win would be, for everyone in Europe!.