Kasihan, Jakarta, Sayangku – What A Pity, Beloved City!
Given how the words 'hate-speech' have been devalued in the Western world, by imbeciles like Britain's Surrey Police, whose 'Hate Crime Procedure…'
...says 'apparent lack of motivation as the cause of an incident is not relevant as it is the perception of the victim or any other person that counts'. No clear hateful motivation? Doesn't matter. Record it as a hate crime anyway.
…it's interesting to note the widespread outrage over the newly installed Governor of Jakarta's astounding outburst this week.
Being a lazy fellow, I have decided to build my comments around what 'The Australian' newspaper reported, that Anies Baswedan used his first speech in office to urge "native" Jakartans to take back the Indonesian capital.
Not at all surprisingly, this sparked concern among the city's ethnic Chinese community…
The word Baswedan chose, pribumi, is common here and has a very specific meaning – indigenous.
It is always used to differentiate between Chinese ethnic people and the majority, who are mostly of Melayu   (Malay) ethnicity.
[[[[[[[[[[[[[[[[[[[[[[

One of many Jakarta shops marked by their owners as 'pribumi property' in an effort to preserve them from looting during the 1998 anti-Chinese race riots
====
There has always been some anti-Chinese racism around Jakarta, which we have noted from time to time.
We whites, who are mostly not citizens anyway, are bule, literally albino! Nobody I know gives a damn about being called a bule, We often use it to refer to ourselves!
Admittedly I was a bit miffed when house-hunting a few years ago, to be told that one owner would under no circumstances have a bule tenant…
=
=
…but, unlike the 'discrimination' whiners in The Old Country, my attitude was that he owned the property and if he wished to behave stupidly, he had every right to be stupid.
If I had to hire a secretary, I'd certainly discriminate, offering the job to somebody, anybody…
=
=
…who looks like the Indonesian songstress Dewi Perssik, before anyone else, no matter how secretarially qualified!
But that's just me.
Anies Baswedan now runs all Jakarta!
"In Jakarta, colonialism is right in front of our eyes, felt in everyday lives."
WHAT?
"In the old days, all of us pri­bumi (natives) were oppressed and defeated. Now after independence, it is time for us to be the masters of our land," he said, as people in the crowd punched the air and shouted –
Of course they didn't shout 'Allah is Great.' They wouldn't be shouting in English. The sort who love to shout prefer Arabic! What the reporters, and everyone else, heard was 'ALLAHU AKBAR,' words which cause an emotional response in Western lands and now, it seems, here too.
=====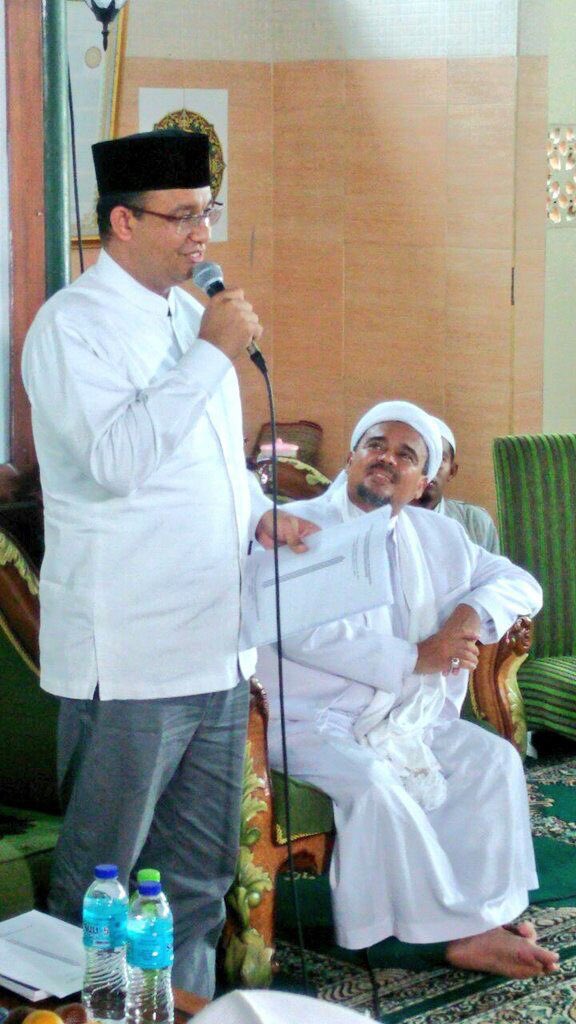 Anies Baswedan wins a smile from FPI 'grand imam,' Habib Rizieq
=======
If Anies had been ranting thus at a meeting of his fanatic fans in the FPI, a violent Islamist gang which he courted eagerly during his election campaign, one might expect much such hollering.
But at his first speech as Governor?
At least people now know what to expect, if they hadn"t already! Even that Australian reporter knows Anies' record well enough to describe him as –
'the former moderate Muslim!' 
The report mentions that Baswedan was once Rector of Paramadina University, which I passed on my bus last month. It's long had a good reputation as a place where REAL moderate Muslims are abundant,
There's a quote from a lecturer there, saying the use of the word was "inappropriate."
That's not a word I like to hear in such discussions. Right or Wrong, okay, or neither, but 'inappropriate?'   Something of a cop-out term.
But the lecturer is correct when he added  that –
"The atmosphere in Jakarta is very different now compared to before the election and the term 'pribumi' could spark tension. We cannot blame those who took offence at this speech.."
And a former minister and human rights advocate described the speech as a "disaster" guaranteed to "open old wounds."
I prefer the more robust observations from the Centre for Strategic and International Studies researcher, Tobias Basuki…
===
===
…who defined the new governor's words as "alienating, especially coming from him and his track record in the election. It's quite obvious that he's excluding Chinese Indonesians because that's the narrative that propelled him into office."
Inevitably, Baswedan – who's no fool – is now claiming he was looking back at those wicked imperialists, the Dutch!
===========
=========
"Who faced the Dutch up close? Jakartans," he said.
"If we look at people in the countryside, they know about the Dutch. But do they face them up close? No. The bottom line is I was talking about the Dutch colonial rule."
Best not to think what non-Jakarta pribumi, from Aceh to Bali, who put up spirited resistance to Holland, might want to say to that!
But Dutch colonial rule ended nearly seventy years ago! What tense, past or present, was Baswedan using to make Islamist bigots holler 'Allahu Akbar?'
What was that word he used?
NOW?
Some Chinese Indonesians may say that we bule are fortunate, because, when the current Creeping Shariah escalates into a nightmare stampede, we can leave, easily, whereas this is their country, in which they've lived for centuries.
But despite the horrified responses from decent Indonesians, including many pribumi, there's no way I can feel fortunate.
It won't be that long till I have been here twenty years, and I love Jakarta, never imagined how far and fast the fanatics would become major players in the political game.
When Islamist zealotry intertwines with paeans of ethnic triumphalism, it's hard to find reasons not to be gloomy.
Final quote, from one of the banners on show along the governor's convoy route to City Hall on Monday night, hailing Mr Anies's election as a "symbol of the awakening of the indigenous Muslims…"
Time to read something else…

…a bit of Western literature, perhaps, before my pleasant (and pribumi!) guest arrives!