OECD – Brussels-Funded – Is Anti-Brexit! And That's News?
I was no more impressed by the Organisation for Economic Cooperation and Development's strident anti-Brexit shrilling…
=
 – their spokesman said Brexit would be as harmful as the second world war blitz…
…than I was by that old convict La Garde, who produced IMF's similar rant during the referendum campaign.
=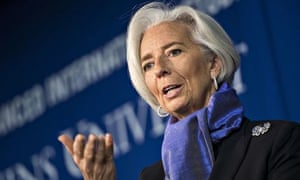 It's no more digestible to see La Garde still drawing a huge salary from IMF despite that French court verdict than it is to be reminded that OECD gets tons of money from the Euro-Commissars in Brussels.
=========
==========
Labour MP Gisela Stuart said: "It is laughable that the EU-funded OECD, at a time that is the most helpful possible for Brussels, has the gall to intervene in our negotiations and call for Brexit to be reversed.
=
=
I won't go into detail because another – full-time! – blogger had done the hard work and I simply offer you his link.
I am not in Britain and not likely to be there this year or next year. But I sincerely hope that Brits are responding to the condescension of Liar Junckers and his cabal.
=
=
It's not just the greed of their Brexit Bill demands, which ignores the endless rip-offs perpetrated against the UK over many years, but the sheer bloody arrogance – how dare they dictate what may or may not be discussed.
True, it's May's fault for weakly giving in on the agenda, bowing to Brussels on the order of what may be argued, rip-off before trading deals, etc.
=
=
Of course Britain should be free as of June last year to start seeking trade deals whenever and wherever it's best for Britain, NOT when the EUSSR permits.
Time for May to walk away.
=
=
Maggie would have, for sure.