France's Ex-Colony Can Teach Macron A Thing Or Two!
As honest French folk in Calais despair of deliverance from the migrant plague – Green Garbage – Showering Support On Calais Curs! – illegal aliens marauding with impunity, there's news from a former French colony that seems to have a better grasp of how to handle crimmigrants.
VICE is notorious for its leftist slant…
…but despite its evident hostility towards Algeria's approach, their report cannot fail to disguise how effective and sensible that North African country's policies are.
==========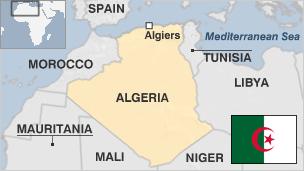 ...police are indiscriminately rounding up West African migrants., loading them onto buses, and transporting them thousands of miles to the country's southern border, where they are deported to Niger…500 migrants have been captured in October alone…
That sounds like good news, but not to those who report it, the International Federation for Human Rights and the Collectif Loujna-Tounkaranké. 
In fact these admirable 'roundup' operations have alarmed human rights monitors throughout the region, though one might suspect normal Algerians don't mind. No need to suspect – the report tells us plainly!
Their increased presence throughout the country — experts estimate Algeria's migrant population is close to 150,000 have brought new levels of public outrage. The hash tag #لا_للافارقة_في_الجزا (in English, #NoToAfricansinAlgeria) has flourished online..
No wonder! 
It's not a rich country and hardly needs unwanted additional populations, especially if those additional people violated their borders with criminal intent – the crimmigrants view Algeria as a pit stop for migrants traveling to Europe. 
https://news.vice.com/story/algeria-is-rounding-up-migrants-and-not-saying-why
The authorities in Algiers, we're told, are concerned to heed their citizens' righteous indignation.
Here's one example –
=–
    …Ahmed Ouyahia, Algeria's prime minister, called undocumented migrants "a source of crime, drugs, and many other plagues," vowing "not to let the Algerian people suffer from anarchy."
If only France, and Canada, and Britain, and Germany, and Italy, would show a similar sense of duty to respond to the anguish of their own citizens who suffer at the hands of illegals.