Religious Liberty USAF -A Protest Deserving Support!
Here's another protest that you should endorse.
====
ooooo
Tell Air Force Secretary to end religious discrimination
Tuesday, November 21, 2017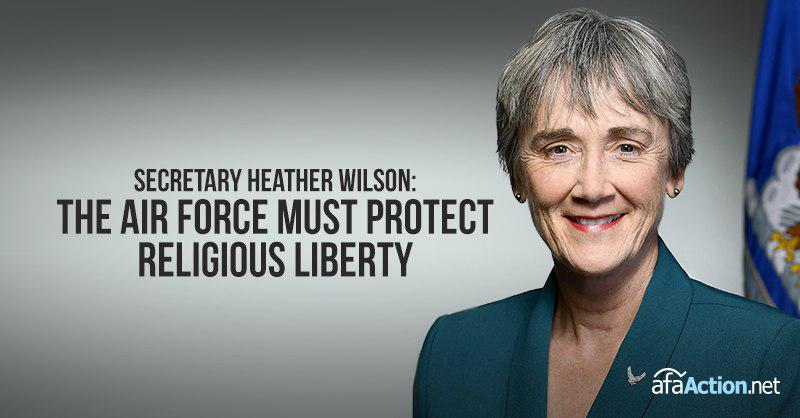 Obama's hostility toward Christians still exists in the military.
U.S. Air Force Col. Leland Bohannon was asked in May 2017 to sign a "certificate of spouse appreciation" for a retiring master sergeant in a same-sex "marriage."
As a devout Christian, Bohannon refused to sign the document stating it would violate his religious belief of marriage being between one man and one woman. As a result, the Air Force suspended the colonel and effectively ended his career.
Sign the petition to demand the Air Force 
restore and protect Colonel Leland Bohannon's Constitutional right to freely exercise his religious beliefs by reversing the complaint against him and removing any unfavorable remarks from his record related to this complaint.
Col. Bohannon requested religious accommodation after speaking with Air Force officials. Such an accommodation would have allowed Col. Bohannon to maintain his religious beliefs and excused him from having to sign the document.
About six weeks later, the Air Force responded but gave no answer to Col. Bohannon's request, leaving him without a defense. The airman requesting the "certificate of spouse appreciation" filed a complaint with the Equal Opportunity Office against Col. Bohannon for refusing to sign the document.
As a result, "Bohannon was relieved of command. Additionally, a letter sent by a superior officer recommended against Bohannon's promotion to brigadier general, effectively ending his career." He appealed the decision, but Col. Bohannon was denied the appeal by Brig. Gen. Paul W. Tibbets IV, deputy commander of Air Force Global Strike Command at Barksdale Air Force Base, Louisiana.
In May 2017, President Trump, Commander in Chief, issued an Executive Order calling the Department of Justice (DOJ) to provide guidance to the executive agencies on the protection of religious liberty. The DOJ issued the guidance on October 6.
The Department of Defense (DOD) headed by Defense Secretary Jim Mattis is an executive agency that also gives direction to the U.S. Air Force led by Secretary Heather Wilson. So far, the DOD has failed to issue follow-up guidance to protect the religious freedoms the military is fighting to protect.
Sign the petition urging Air Force Secretary Heather Wilson to protect the religious liberty of Col. Bohannon.
If our mission resonates with you, please consider supporting our work financially with a tax-deductible donation. The easiest way to do that is through online giving. It is easy to use, and most of all, it is secure.