Alabama Senate – For Whom Will Sex-Predators Vote?
I was having a drink or three one evening last week,in downtown Jakarta, with an American, a Canadian, and two Indonesians.
The talk turned, for no obvious reason, to Alabama, and  its Senate election.
=====
Roy Moore
=====
The Canadian was astounded because the American and I found it odd how Roy Moore's accusers had hung about for decades, nursing their 'grievances,' until a senate vacancy came up.
The Indonesians knew little of the case but neither had they heard of  Chappaquiddick, which I inserted into the debate as an example of Democrat sleaze…
====
========
…enlightening them on the late and unlamented predator Senator Edward Kennedy, and specifically his act of repulsive moral and physical cowardice, when he left a girl to drown.
And another fellow discussed was, guess who…
=
======
….Bill Clinton, and his despicable deceit, exhibited brazenly during that impeachment trial.
But the chat impelled me to check out what manner of morality Roy Moore's opponent, Doug Jones, represents, and lo, I turned first to CNN.
=====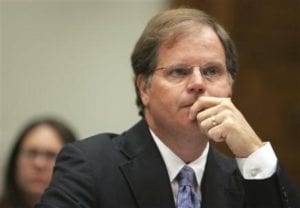 Jones
====
Jones has criticized the Trump administration for withdrawing guidelines for schools on the treatment of transgender students….
http://edition.cnn.com/2017/11/27/politics/doug-jones-on-the-issues/index.html
How deftly the channel that allows the nasty little queer Don Lemon to spew out his bile almost daily manages to whitewash Doug Jones' eagerness to subject children to what goes on when you let maladjusted males prowl women's restrooms.
=
For a more forthright description of the Jones line on perversion, I opted to see what a smaller section of the media had to say on Dirty Doug, and sure enough…
=
Democratic Senate candidate Doug Jones expressed support for controversial Obama-era policies requiring transgender access for school bathrooms
It's just a few more days till the voters of Alabama make their choice.
On the issues of common decency and the safety of women and girls, it's clear Roy Moore is the man they should elect.