Ulster's Enemies Stick Together, Honouring Terror Scum!
Here's a photo of a play-park named in honour of a terrorist scumbag who died in the service of Sinn Fein/IRA treason.
========================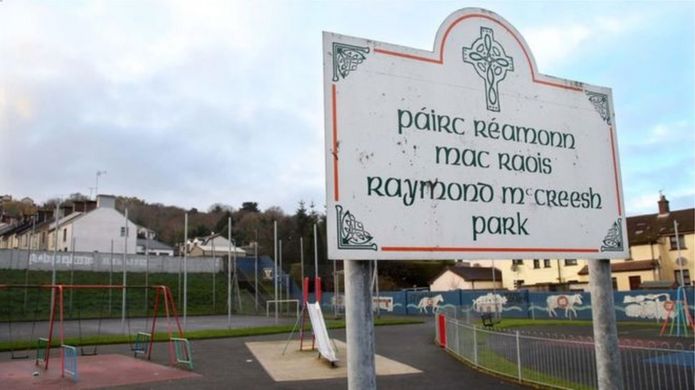 ============
No need to review the career and character of the terrorist traitor McCreesh again –
…because we've covered that before!
========
One expects the vermin party to favour their own, but the so-called 'moderate' SDLP on Newry and Mourne District Council had given a solemn undertaking that they'd support a move to change the name.
But when it came to the crunch this month, they followed the example of their late and extremely unlamented leader, John Hume…
=====
Heinous Hume shakes Blood-Beast Adam's hand,with Eire's arrogant PM Reynolds in the middle of the 'pan-nationalist' – i.e. expansionist – conclave
========
…and readily joined with the vermin.
SDLP councillors voted against renaming it!
Why?
" to avoid stoking community tensions"
==
No need for me to say it.
Here's the fitting response from a spokesman for the patriot community.
UUP councillor David Taylor said the SDLP had "failed to heed the concerns of the victims of republican violence and those of the unionist community".
He said there was a danger that the ground could be transferred to the local community, who could decide to keep the name.
"It is inconceivable that in any civilised world that any portion of ground would be named after a convicted terrorist…"
I wondered ( and thus decided to provide his email address) if any readers might wish to send their comments to the leader of the SDLP on that council, who defends their dirty sell-out vote….
….
Sell-out Stokes – Email:Stokes Gary John
…on the grounds that the property would no longer be under council ownership in 2018..
Which, as noted, does not mean the evil name will be altered.
…
And it's this year that it's his responsibility, of which he chooses to wash his dirty hands!