Glad Tidings! Blue British Passports – But Alas, Not Yet!!
Being always fair, even to governments which rarely deserve it, I must acknowledge the announcement by May's Immigration Minister, Brandon Lewis, that he is to act on my call last year…
…for a return to properly British passports.
=
"Leaving the EU gives us a unique opportunity to restore our national identity and forge a new path for ourselves in the world.
=
=
"That is why I am delighted to announce that the British passport will be returning to the iconic blue and gold design after we have left the European Union in 2019."
============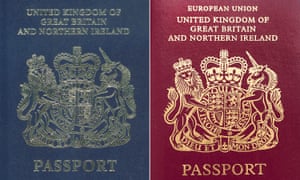 ….replacing burgundy model with blue design will help 'restore national identity'
…
My pleasure is naturally enhanced by the sure and certain knowledge that the news will give Enemy Within hacks, like those in the Guardian, serious indigestion – long before they sit down to their Christmas dinners.
Unfortunately, these nice new patriot passports will not be issued until after October 2019.
One has to assume that the hated EUSSR banner will also still affront our gaze as we walk by the embassy here in Jakarta…
=
(which, since it transferred from the busy junction in the heart of the city to a leafy back-street, where nobody really walks except vendors of cheap local foods, is basically invisible to ordinary Jakartans)
…will also continue to flutter offensively beside the only flag to which true Brits owe allegiance.
=

=
Since the decision was taken by those who matter ( the British people, not posturing creeps like Anna Soubry and the other collaborators at Westminster) I have consistently maintained that these significant steps should have been taken last summer.
 …
But better late than never!