UK Bishop Bashes U.S. Christians, Embraces Trans-Freaks
Further to our recent post on renegade churchmen in Germany…
…our attention has been drawn to the situation in England, where it's no wonder Anglican pews are increasingly deserted.
What are we to make of the bizarre bishop Paul Bayes spouting leftist hogwash, who has lambasted conservative evangelical Christians, arrogantly claiming they risked bringing the word evangelical into disrepute by their support for Donald Trump.
.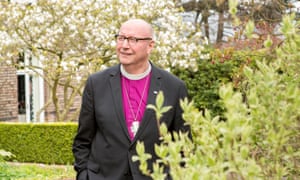 ——-
The far-left freako at least makes no effort to hide his purely political agenda.'If people want to support rightwing populism … how are they going to relate that to their Christian faith?'
Christian faith?
 
=
Sounds more like Jeremy Corbyn than Jesus, similar shrilling to that of his boss, Justin Welby, who abused his Christmas Day pulpit  at Canterbury Cathedral by mixing prayers with fatuous jibes against "populist leaders that deceive!"
Christian faith?
Adding injury to insult, Bayes delivered his anti-evangelical, Trumpophobic tirade on the very same day that he exalted sexual perversion at the launch of a new Christian charity, which he is chairing, aimed at eliminating discrimination based on sexuality or gender.
It's pretty sordid that he chose that platform from which to snarl at American conservatives, when if he had any sense of Christian solidarity, he'd be shouting support for US evangelicals, good decent folk…
…
.

….most of them, fighting valiantly against gaystapo intimidation.
I don't really want to know about Bayes' self-confessed 'encounters' with sexual maladjusts, encounters which, he brazenly claims, "profoundly changed" him. It's certainly not clear if he was normal prior to those encounters or if he isn't normal now. 
The link  will take you to the names of other pro-freako priests in the C of E…
 …
but I suppose if you happen to be a regular attender at any of their churches, you'll already have sussed out their grotesque eagerness to champion sodomites.