Haitian Teen Hookers? Kick Oxfam Snouts Off The Trough!
We have several times offered you sound counsel on how to deal with a certain well-known 'charity…'
Now the latest news gives those still foolish enough to donate to this 'charity' fresh food for thought!
One of the UK's biggest charities has denied allegations it covered up the use of prostitutes by its aid workers in Haiti.http://www.bbc.com/news/world-latin-america-43004360
So how come they didn't report their promiscuous personnel to the police for behaviour that flouted the law in that unfortunate country?
Let's keep boycotting this leftist lot.
After all, if you're British, they get enough of your money already, WITHOUT your consent!
——-
When you have a pro-EU think tank, charity or NGO on air, find out beforehand whether it gets grants from Brussels. If it does, mention the fact. 
=
"That's all very well, but would you be saying it if 

Oxfam 

hadn't had 40 million euros from the European Commission last year?" \Referendum Campaign – Tips for Pro-Liberation Brits! 
Bad enough 'charities' like Oxfam grab cash from YOUR taxes via the corrupt EUSSR.
There was a time when charities relied on REAL donations ( dictionary definition – something that is given to a charity, especially a sum of money )
But money from your pocket that is taken by the tax-collector? If the government without your consent then hands it out to extremist-controlled 'charities?
That's not GIVEN, is it?
=
=
It's state-sponsored pick-pocketry!
But some Oxfam chickens may be coming home to roost!
Development Secretary Penny Mordaunt excoriated the leadership of Oxfam for its handling of allegations that some of the anti-poverty charity's staff in Haiti used prostitutes…
????????????????
…including Haitians who might have been minors at the time.
That HAS to be investigated.
=
????????????????
Oxfam demonstrated a "failure of leadership"…it failed to fully inform authorities…
…….
Penny Mordaunt MP
…
"…it didn't prevent the alleged perpetrators from going to work for other charities, she said…"when this was reported to them, they completely failed to do the right thing…"
All fair comment, and it would be delightful to see the Oxfam snout kicked out of the tax-trough.
But the politicisation of Oxfam has for years been NO secret.
We reminded you of their essentially subversive character just over a month ago, exposing how they're helping out THIS essentially subversive character, below.
=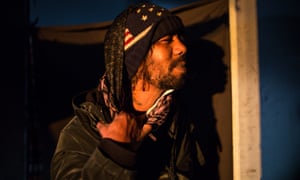 Why have 'Conservative' governments not acted to deny them funds long before now! 
PS
And it's NOT just Oxfam – how many other 'aid workers' need to be exposed as scumbags?
=