Ingrate 'Migrant' Savages Amok In Madrid!
Riot police and firefighters were deployed to Lavapies, a district in the centre of the Spanish capital with a large immigrant population, as angry protesters set fire to dustbins and a motorbike, and threw stones at security forces.
About time the Spanish cops got stuck into these arrogant scumbags, whom I've just seen on tv news, hollering 'No human being is illegal.' But since they are illegal – they were also roaring 'Police, get out of Madrid!" – are they thus telling us they are NOT  human beings.
Their amok-run tends to suggest just that.
=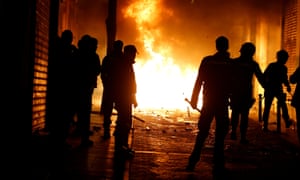 =
If Spanish citizens were involved, their violence should be repaid ten-fold.
But it seems any Spanish hoodlums in the mob were outnumbered by aliens.
=
'Spanish protesters?'
If the rioters were not Spaniards, they are uninvited, uncivilised guests – trespassers – and should show proper humility.
In a more civilised world, they'd be required to doff their caps whenever honest Spanish citizens pass by, to show due respect.
But what's all the fuss about, to turn the Spanish capital's streets into scenes of mayhem?
Violent protest in Madrid over migrant death!
…and one might imagine there'd been a drive-by, the said 'migrant' sitting on a park bench minding his own (legitimate?) business, or that he had suddenly been dragged into bushes for no reason, and chopped up.
FAR FROM IT!
The riotous rabble were doing their mayhem thing because 'an illegal vendor' had been caught in his criminal activities, took flight and was quite properly pursued by police.
He is now dead – a heart attack, no doubt due to unaccustomed physical exercise aka doing a runner from law enforcement – no great loss.
Same as that other crimmigrant we covered recently.
It's not clear from the report whether the Senegalese was not just an illegal vendor but an illegal immigrant.
Whatever, he had NO right to be where he was that day, doing what he was doing.
Time Spain cleansed its capital, and all its territory, of undesirable aliens.
=
Oh, and STOPPED any more violating its frontiers!