Sticky-Beak UN Bint Insults Brits!

Some arrogant UN bint has been lecturing Brits ( or at least any Brits daft enough to listen to her yammering) but before we even get into what the yammeress is on about, let's scrutinise the ignorance displayed even before we get through the second paragraph of the Politico report on the findings of her mission to the U.K. and Northern Ireland….UN: Migrants face 'hostile environment' in post-Brexit Britain
WHERE?
We don't talk about France AND Brittany, or Germany AND Bavaria, as if they are two separate entities.
=

=
In each of those pairs, the latter place is part and parcel of the former, just as, if we talk about the UK, that INCLUDES Northern Ireland!
No need to insert that 'AND' as if Ulster is not part of the United Kingdom!
But let's look at Tendayi Achiume, who has stuck her ugly snout into matters which are no concern of the United Nations, but are a purely internal issue for British people to decide.
I had to switch to the BBC for a mini-biography, and it seems this impudent, unpleasant woman is a 'professor' at UCLA in California, was born in Zambia and is 'special rapporteur at the UN,' who reports on racism, xenophobia and intolerance…
Oh, WOW! A ranting leftist nutjob, clearly, and she'd have to be, to land a ( no doubt vastly overpaid!) job like that. 
And her reported pro-crimmigrant rant confirms that conclusion.
She recommended the government repeal the sections of the 2014 and 2016 Immigration Act which require landlords and employers to check a person's right to be in the UK.
————-
She ludicrously waffles about how she was "shocked" to find young black men were "over-represented" in police stop-and-searches, and in the prison system.
Maybe because they commit  lot of crimes?
And the Nutty Professor has concerns over the government's anti-terrorism Prevent programme .
The obvious response of any country subjected to such a shrill is to tell her to go stick her head up a dead bear's bum, but I'm happy to settle for Iain Duncan Smith's rebuke, milder than I like, but adequate.
=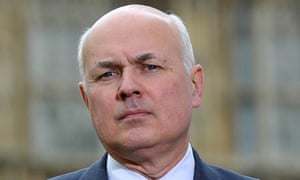 Duncan Smith
"These visits are completely pointless. They are politically motivated, they are inspired by the extreme left, and the idea is to kick the UK."
[[[[[[[[[[[[[[[[[[[[[[
Well said, and one would hope any patriotic Brit with any sense would similarly respond.
But of course Theresa The Appeaser is limited, to say the least, when it comes to patriotism AND sense.
The grovel-garbage spouted by one of May's flunkeys needs to be seen to be believed.
: "We note that the special rapporteur commended UK legislation and policy to tackle direct and indirect racial discrimination…

"We have made great progress, but the prime minister is clear that if there is no rational explanation for ethnic disparities, then we – as a society – must take action to change them. That is precisely what we will do."
Meaningless junk-talk!
In a free country, there should be absolute liberty for private citizens and businesses to discriminate howsoever they wish.
I've said that before…
It's a nonsense for governments and bureaucrats to tell employers who they can and cannot hire.
If some uptight anti-tobacco fanatic won't hire smokers, that's his loss – I wouldn't want to work for him or her.
If I were hiring a secretary, I'd want to advertise for an attractive fun-loving lady – blatantly sexist, and why not?.
If an Arab doesn't want to hire a Jew, why should he be forced to? Same goes for a Jew hiring an Arab.
If somebody lays down an age limit for applicants (and being over 40 in Indonesia, I have come up against this kind of idiotic discrimination often enough) okay, who wants to work for a nitwit?
The last thing I'd do if I was 'discriminated' against on grounds of age, sex, colour, or tobaccophilia is go crying to some wacko 'rights' body. After Plain Packaging for Oz, Now Plain Discrimination 
…but I know it will be a long haul before all the imbecilic 'equality' rubbish is repealed and free speech restored.
But for May to be HM The Queen's First Ninister and even to acknowledge this arrogant extremist as worthy of reply is a damnable disgrace.