Meddling Merkel's Lap-Dog Media In Hypocritical Fury!
I just arose to face the day, and regrettably turned on DW, the state-funded, left-biased German channel, its English-language news today featuring fanatic left indignation.
Their ex-CNN pinko stooge, Brent Goff, whom we had reason to mention only a week ago…
=
Biased Brent ex-CNN, now DW  
…seemed to think his propaganda channel is entitled to interrogate the United States Ambassador, over a Breitbart interview.
To what purpose?

Why would His Excellency, or anyone else, expect fair play on DW?
Curious, I turned to their on-line pages, where I learned that a spokesman for Merkel's Socialist coalition collaborators, the SPD, a certain Rolf Muetzenich…
==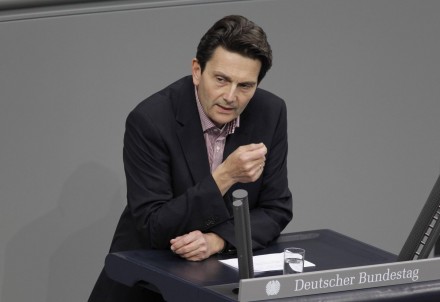 =
…wants to complain to Mike Pompeo, US Secretary of State, because, he claims –
"Clearly the US ambassador sees himself as an extension of a right-wing conservative world movement, and not as a representative of his country entrusted with improving and protecting political, economic and cultural relations between the US and Germany."
An appealing, if unlikely thought! Sounds like a bit like 'meddling,' on which Mama Stasi Merkel is something of an expert!

But Kamerad Muetzenich explained his red rage by adding that the Ambassador's actions violated the 1961 Vienna Convention, under which diplomats do not interfere in the domestic affairs of a country.
If THAT's the issue, where were the pinko whiners when the US Embassy in Budapest shamed themselves and their country by endorsing a pervert parade?
THAT was arrogant, outrageous intrusion into Hungary' internal affairs, because both the Hungarian Government and the Hungarian people have no time for gaystapo tripe.
Can't have it both ways, Kamerads!