Ayo, Jokowi! Death To Terror! Defy The Brussels Bullies!
======
Although four of the scum who took part in the savage attack two years ago outside the Sarinah shopping centre in downtown Jakarta were taken out successfully…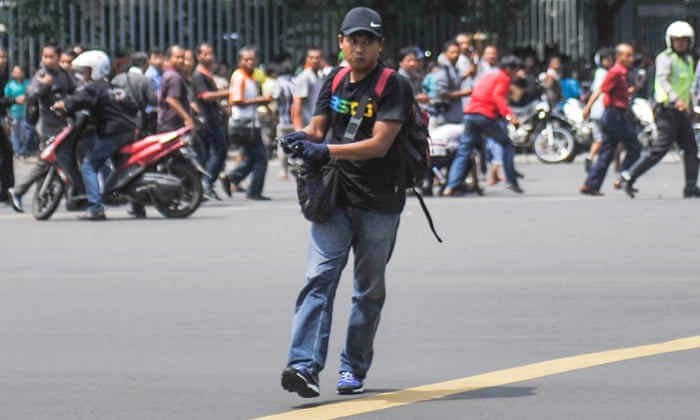 ISIS savage at Sarinah
Satanic Evil Stalks Sarinah! Start Executions, Please, Jokowi!
….the beast known as Aman Abdurrahman has been behind bars (more or less – it seems 'the court heard he planned the attacks from his jail cell!') ever since, vigorously resisting attempts by prosecutors to have him executed for his role as mastermind of the atrocity, which saw four innocent people also lose their lives.
One media report this week reminded us that Abdurrahman is not only seen as the 'de facto' leader of local fans of the ISIS rape-gang…
=
=
….but is also the spiritual leader of local extremist network Jamaah Ansharut Daulah (JAD).
But it wasn't until this very day, while I was sitting on a bus in East Jakarta, that I heard the splendid news that justice will be done.
Of course we were hoping for this – Wise Words In A Jakarta Court – Death To Terrorists!– but we were not counting any chickens, not till the court ruled him guilty of terrorism, and confirmed the appropriate sentence.
Yet even now, there will be ranting from thousands of evil jihadists and those who purport to disown terrorism Oh Yeah? IslamoNazi 'Kill-Kill-Kill' Ranter Condemns Jakarta Terror! but quaintly abhor any suggestion of proper punishment for terrorists.
And I'm not talking about the dumb dorks here in Indonesia who like to dress up as Arabs or Afghans and embarrass themselves by going out in public thus garbed, shrilling Islamist hate.
President Jokowi will face a much more formidable foe, maybe not shrill but sedulous…
=
President Jokowi
=
….in its determination to save the necks of nefarious vermin like Abdurrahman, whatever obscene crimes may have been committed.
Guess who!?!
We told you long ago!
The 

European

 

Union

 is the leading institutional actor and largest donor in the fight against 

death

 

penalty

 worldwide.
https://ec.europa.eu/europeaid/sectors/human-rights-and-governance/democracy-and-human-rights/fight-

And the UK, like a servile Brussels flunkey, has been arrogantly interfering in Indonesian internal affairs for years!

Jokowi has shown guts in defying previous cacaphonous clamour from overseas sticky-beaks on this issue.
Let's hope he stands as firm on this latest case, and that Abdurrahman gets what he truly deserves.