Lousy Left Heaps Insults On Senior Cit – For Retiring At 81!
Most people retire when they're in their sixties.
So when somebody soldiers on till he reaches the age of 81, you'd think most other people would wish him well after carrying on that long.
ooooooo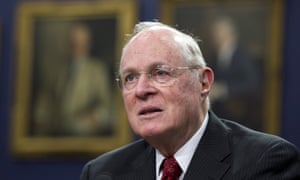 Anthony Kennedy
=
Yet the charmless American Left has been hurling abuse at Anthony Kennedy, abject ingratitude in view of his key, and appalling, role in legalising pervert weddings, and other opinons…
…which have damaged the USA in various respects.
I give you the link to an account of the level –  and multiplicity – of vilification this old man has been subjected to, the most explicit example perhaps this, from a foul-mouth pinko creep I've never heard of…
 Ian Millhiser-
'F–ck. You. Justice. Kennedy.
…but who, on investigation, is not only 'a senior fellow at American Progress,' but also – inexplicably,given his inarticulate gutter-gob – the 'Justice Editor' at that organisation…
=
=
…again, I've not previously heard of the agitprop outfit but can only disdain any gang that elevates such a sorry specimen to editorial status.
I certainly found Kennedy's bizarre rulings both offensive and obnoxious, but the Left have little to complain about if one examines his overall record.
I'd say let him rest in peace and maybe reflect on his follies.
Wouldn't it be nice, however, if that ghastly old hag, Baba Yaga Bader Ginsburg, would emulate Kennedy, hop on her broomstick, and make way for President Trump to appoint an infinitely wiser person (wouldn't be hard to find somebody better than the grisly witch!) to the Supreme Court.
===
Baba Yaga Ginsburg
'Regrets?' No Way – Baba Yaga Ginsburg Must Go! 
It would be fascinating to see if the Left heaped any insults worse than mine on her hideous old head.