Hey, Dumbos, Winnipeg AIN'T In Pakistan!
Despite the silly example of that statue of Obummer as a little squirt in Menteng, Jakarta, which I have managed to avoid seeing no matter how often I pass nearby the park in which it was inexplicably erected…
---
Menteng's Squirt Statue
—–
…its existence is probably less annoying than the recent opening of a park dedicated to a Pakistani politician in Manitoba.
=
=
That pathetic clown Andrew Scheer, who is Canada's 'Conservative' Party leader, has publicly distanced himself from one of the few Tories there with the guts to denounce  multicultural claptrap, Maxime Bernier.
.

=
Without the guts to say what he thinks about the actual issue, Scheer disowned Bernier, weaseling that the MP "holds no official role in caucus and does not speak for the Conservative Party of Canada on any issue."
—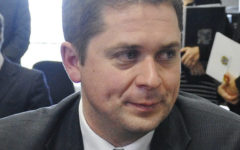 Weasel Scheer
=
Scheer is an equivocating weasel, as we have noted before now, on other issues!
As in the UK, it sounds like real conservatives need to start a new party.
I only found out about the Winnipeg nonsense thanks to True North Initiative, which becomes more interesting, and inspirational, the more I read what Candice Malcolm writes about.
Canada has a proud history worth defending
While anti-Canadian activists removed a tribute to our first leader on the West Coast…
ooo
BC's shame
….a group of pro-Pakistani activists, including Liberal MP Iqra Khalid, created a new tribute to a different founding father. Jinnah Park was inaugurated in Winnipeg earlier this year, paying homage to the founding leader of Pakistan, Muhammad Ali Jinnah.
Why are foreign leaders who oversaw war and bloodshed being celebrated in Canada, while our own great and peaceful leaders are targeted and smeared?
Canadians shouldn't let those who hate our country – or are simply confused by cultural relativism – drive the political agenda.
Check out my latest column!