ISIS Evil In Java School? Yet Minister Wants No Debate?
When kindergarten kids are dolled up like evil ISIS ghouls, all in black, equipped with card-board guns, and forced to parade on Indonesia's Independence Day…
=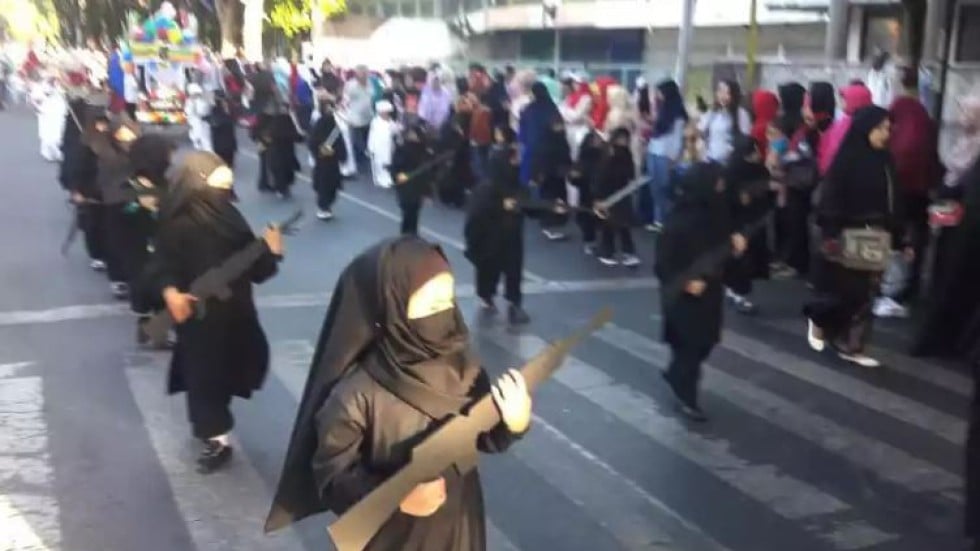 =
….the obvious thing to do is determine exactly who was behind this vile charade and then make sure the culprits are unemployed for the rest of their lives.
There's absolutely no excuse. The young uns could have been togged out as the excellent Densus 88 anti-terror police, who deserve admiration for the good work they do, shooting jihadist vermin.
=
Or else put them in costumes resembling the original rag-tag heroes who fought the Dutch.
It isn't the little children's fault, but they need to be taken in hand by decent Indonesians and told that what was done to them was reprehensible and, as soon as they are old enough to understand, that the ISIS rape-gang, like all jihadist killers, are satanic scum.
At least we read of apologies, and that the errant school is to get an '

administrative punishment."
But the most offensive comments I found were quite low down the article, viz. the shocking statement from a member of Jokowi's Government.
=
=
…Education and Culture Minister Muhadjir Effendy called for a halt to the controversy.
For pity's sake, why?
The 'controversy' is a serious debate on how the youngest Indonesian generation is being guided and shaped..
Anyone who does not condemn this revolting cavalcade is no friend to the pluralism which has always been the value most cherished by decent citizens here.
And more immediately, what of the question raised by one of those decent citizens, who points out that the school is TNI (armed forces)-supervised.
'…the existence of such a parade at a TNI-run school meant one of two things. "I think the parade shows that either there is a permissive attitude within the TNI toward such expressions of radicalism, or that this is an isolated case that the TNI failed to anticipate…" 
"If it's the first, then it means that the TNI has a lax attitude toward ideologies that are contradictory to Pancasila and that support the establishment of a religious state…If it's the second, then it reflects poorly on the TNI's understanding of the symptoms of extremism, especially since it wants to play a larger role in combating terrorism."