German Patriot Party Is Spot On – Target Traitor Teachers!
…a school poster captioned "Finland or Death", featuring a migrant boat and prominent Finnish politicians…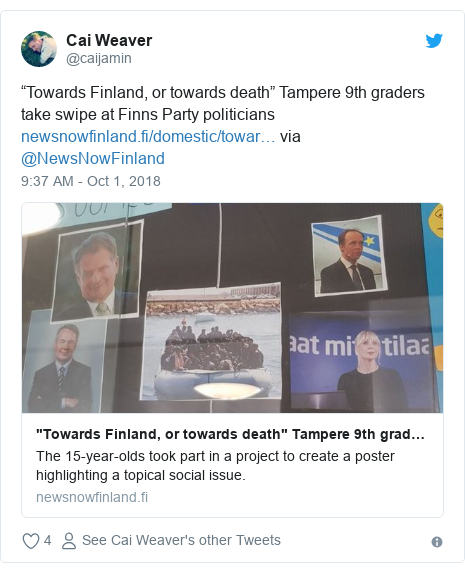 ….'to the left of the boat, under the name "Suomeen" (to Finland), the students stuck photos of President Sauli Niinisto and Greens MP Pekka Haavisto, while Ms Huhtasaari and her party leader Jussi Halla-aho are displayed to the right of the boat under the caption "to Death."
This hateful sloganeering was allegedly designed by three 'students,' clearly influenced by leftists, because the connection between Death' and migration…
=

///////
…would have been much more accurately illustrated by a picture of the alien fiend who murdered those innocent Finns last year.
But it's to Germany I wish to turn today, the furious reaction to the AfD patriot party's prudent plan to have decent kids expose leftist 'teachers' engaged in ideological child abuse by subjecting classes to marxist or multicult indoctrination.
'The page decries "clumsy AfD bashing" including "students with 'FCK AfD T-shirts,'" or "school notices calling for demonstrations against the AfD," adding that political indoctrination of any kind by "state authorities or their employees is incompatible with the provisions of the Basic Law." 'https://www.rt.com/news/440840-afd-child-informants-teachers/
And there's nothing wrong with that diagnosis of the brain-wash problem in schools.
Good work, AfD!
But it's not just in Germany we see this problem, nor only in Finland.
Only a week or so back, we had the vile red nazi punishing a boy for being a fan of UKIP.
Drain The School Swamp – Fire Bad Teachers!
In America, there was that mangy murder-fan too.