Tory MP Slams Anti-May Attacks But Won't Name Attacker?
So that strange 'Conservative' MP, Nicholas Boles, is outraged that another Tory MP has been making anonymous attacks on Theresa the Appeaser?
=
..
It's not actually clear if the outrage is prompted by the attacks or by the anonymity, but Boles has heroically counter-attacked, ferociously describing the unidentified attacker as 'a small man.'
==
I'm sure the target of Boles's powerful rhetoric has been called worse, whoever he may be.
But Boles has a point. If MPs have harsh words for May – and everybody should have – they should not skulk behind the curtains when they say them.
Politics is not a game for shrinking violets.
=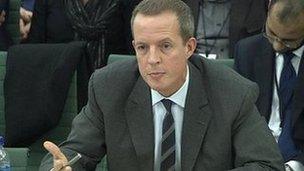 Bold Boles
=
Yet playing the cowardice card cuts both ways!
One can only despise Mr. Boles' failure to name and shame the 'small' bounder!
He says lots of people in parliament besides himself know who it is, but nevertheless he declines to let the rest of us know?
=
It's exactly this kind of condescending elitist attitude that brings parliament into disrepute.
There is absolutely nothing to stop Boles standing up in the Commons, in a debate, or via a written question, or making a point of order, and saying the name out loud.
Parliamentary privilege allows him to do so, and then every journo could report it.
Until he does so, he should shut up about the size of the May-basher.