Can Deplorables Drag Knuckles In Oz?
One of my Oz readers asked why I haven't been paying attention to Australian news, so now I oblige…
=
=
…thanks to a Guardian story headlined – yes, headlined! – with a description ( in clearly sympathetic quotation marks) of sensible money-saving measures decreed by the New South Wales state government, perfectly properly, as the work of…
=
…wait for it…
'Knuckle-dragging philistines!'
Having got out of bed a few hours ago, this sunny Jakarta morn, I dragged not only my knuckles but my entire fingers across the keyboard to find a pic of the snarly pinko who used those rough words against a minister for making decisions he had a duty to make?
======
s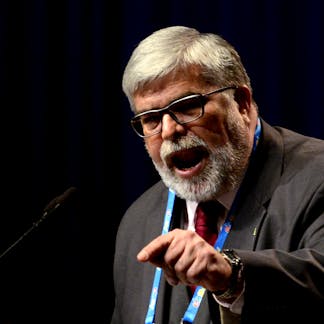 Kim Carr
It's the oaf above, who, alarmingly, used to be a 'schoolteacher!'
He has risen high in Labor Party ranks, to become not only a Senator but also his party's ' innovation spokesman.' 
Mr. Kim Carr is furious because Minister Simon Birmingham declined to be dictated to by 'a panel of experts' attached to the 'Australian Academy of the Humanities,' whose ever-so-sensitive director, some bint named Joy Damousi…
=
'Shocked' Damousi
…is now down with a bout of "shock and anger" that Australian tax-payers were spared the funding of hog-wash.
Hogwash?

Yes, because here are samples, not made up by me but from the Guardian…
…$1.4m of discovery grants for topics including a history of men's dress from 1870-1970, "beauty and ugliness as persuasive tools in changing China's gender norms" and "post orientalist arts in the Strait of Gibraltar…"
Bravo, Simon Birmingham!
I'm pretty sure most Australian taxpayers preferred their funding to be used for research other than spending $223,000 on projects like "Post orientalist arts of the Strait of Gibraltar."
Unfortunately, Mr. Birmingham is no longer with that ministry, having been given another one to look after, but he has defended his decision ably, as per the tweet above.
What should be reviewed is not the decision to veto wasting public funds on nutty nonsense, but the composition of the 'panel of experts' which, according to poor, emotionally-devastated Professor Dalousi, 'judged these projects to be outstanding,'
What the heck is outstanding – or even mildly interesting to any normal person – about "post orientalist arts in the Strait of Gibraltar…"
Fire the elitist egg-heads who obviously have a low opinion of normal people (aka 'knuckle-headed philistines') and reconstitute the committee of 'experts…'
–

….
…offer $100 a head to a random selection of Australians found on Bondi Beach this Sunday!
Ask them to gather once every six months for a quick hour or two of sifting serious stuff from the sort of dross that those 'experts' exalted.